Former Seattle Archbishop Raymond Hunthausen dies at 96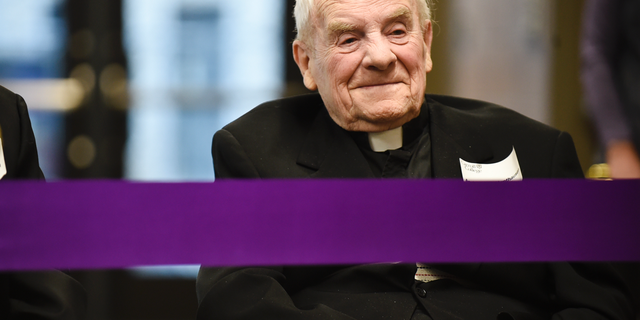 SEATTLE – Retired Seattle Archbishop Raymond G. Hunthausen, whose outspoken support for nuclear disarmament, gay rights and an expanded role for women in the church made him one of the most controversial U.S. bishops, has died at 96.
Hunthausen died Sunday at his home in Helena, Montana, the Seattle Archdiocese said.
Hunthausen, who was born in Montana, served as the bishop of Helena from 1962 to 1975 and as archbishop of Seattle from 1975 to 1991. He was the last living American bishop to have participated in all four sessions of the Second Vatican Council, called by the pope in the early 1960s to modernize the church, the archdiocese said.
"He was someone who through his example, a lot of people really saw that there was a place in the church for them," his nephew, Denny Hunthausen, told The Seattle Times on Monday. "The messaging we're seeing from Pope Francis now was something he was doing 20, 30 years ago: the message of love and mercy."
Hunthausen led protests near a base for nuclear-armed Trident submarines at Bangor, Washington. He withheld half his federal income tax in the early 1980s in protest of nuclear weapon stockpiling, and he urged others to do the same. The IRS garnished his wages.
Critics accused him of deviating from Catholic doctrine by allowing a group for gay Catholics to celebrate Mass at Seattle's Saint James Cathedral; by allowing divorced or remarried Catholics to receive the sacraments; and by permitting Catholic hospitals to perform contraceptive sterilizations.
A Vatican investigation led to the appointment in 1985 of an auxiliary bishop who took over many administrative functions. Hunthausen's authority was largely restored two years later.
The archdiocese said that under Hunthausen's leadership, it became in 1988 one of the first dioceses in the nation to implement a policy to address child sexual abuse by priests and church employees.
Advocates for sex abuse victims say Hunthausen could have done more to protect young parishioners, but they also credit him with being more proactive than his predecessors or other bishops around the country. The archdiocese has paid out tens of millions of dollars to child sex abuse victims, including in many cases that stemmed from Hunthausen's tenure.
In 2009, Hunthausen became one of the highest ranking Catholic officials in the U.S. to testify at a sex-abuse trial, one that pertained to a priest who had been transferred from Spokane to Seattle for deviancy treatment. Hunthausen granted the priest, Patrick G. O'Donnell, full powers of ministry without the documentation usually required for transferred priests.
He testified that he was never informed why O'Donnell had been sent to Seattle.
"It was a breach on my part," Hunthausen said. "It's hard to acknowledge that now. It hurts me."
Hunthausen also testified he made mistakes in his handling of one of the archdiocese's worst predators, James McGreal, after learning of the abuse in the late 1970s. He re-assigned McGreal to a parish where he would have access to children, against the recommendation of a psychologist who was treating him for pedophilia.
"I think Archbishop Hunthausen would have admitted that he could have done more to protect children in the Archdiocese, and to his credit he eventually admitted he had made some mistakes," attorney Jason Amala, who has represented victims in dozens of cases stemming from Hunthausen's tenure, wrote in an email. "He was the Seattle Archbishop when the Catholic Church finally started to address the problem of priests abusing children in the mid-to-late 1980s, and I think he tried to put the Seattle Archdiocese on a path to protecting kids and not covering-up for abusive priests."
Hunthausen's legacy also includes support for the needy, including the Hunthausen Fund in Helena at Good Samaritan Ministries and the Hunthausen Fund at St. James Cathedral in Seattle, which support the working poor and homeless.
In a statement, Seattle Archbishop J. Peter Sartain called him a "humble and loving servant of the Lord, and a man of peace."
Hunthausen retired in 1991 at age 70 and returned to Helena, where he sometimes helped at the diocese by celebrating Mass and hearing confessions. He spent the last years of his life living at a nursing facility with his brother, Jack Hunthausen, also a Catholic priest, and they celebrated Mass daily, the archdiocese said.
A funeral Mass is planned at the Cathedral of St. Helena on Friday. Arrangements for a funeral Mass in Seattle are pending.