Florida police officer spots three-legged gator crossing road during patrol: 'Welcome to Florida'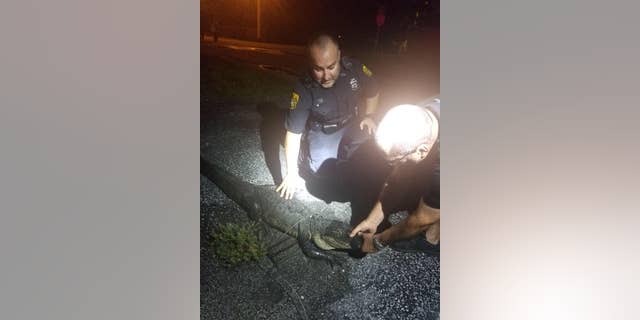 See you later, alligator!
Tampa police Officer Andres Wells stumbled upon a three-legged alligator over the weekend in Florida.
"Today, while on patrol, [Officer Wells] came across a 5.5 foot long, 3 legged alligator crossing the road," the Tampa Police Department announced in a Facebook post on Sunday.
The policeman joined the department back in February 2017 after moving from Michigan, where he worked for the Kalamazoo Department of Public Safety. "Officer Wells, welcome to Florida," the department said in the post.
OREGON MAN HIGH ON LSD LEADS POLICE ON WILD CHASE THINKING HE'S IN 'GRAND THEFT AUTO,' OFFICIALS SAY
The post has received more than 200 reactions and several comments welcoming the cop.
"Give it time, you'll be a 'Gator Boy' Officer Wells before you know it!" one person wrote.
Another chimed in, "The look on his face is priceless...lol. Welcome to Florida!"
Other users had different reactions.
"Can't you handle it like an injured deer??" a commenter asked.
Another offered a suggestion for those wishing to give the officer a warm greeting.
"If you want to truly welcome him, get the man a glass of sweet tea and fry that gator tail up," the person wrote.