Florida man caught spraying El Chapo graffiti vowed to hire 'crackhead' to kill arresting deputy: report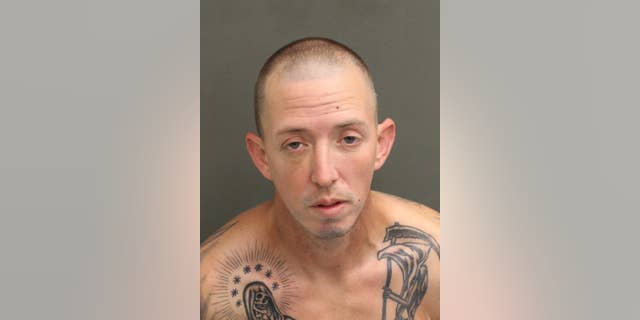 A day before notorious Mexican drug kingpin Joaquin "El Chapo" Guzman was found guilty of numerous drug and conspiracy charges, a Florida man was allegedly caught tagging a light pole with graffiti naming Orlando as Guzman's "city" -- and his reported response to the arresting officer would've made the murderous cartel leader proud.
Brandon Charles Deshon, 34, was spotted by an Orange County sheriff's deputy spraying the numbers "239" in red paint on a light pole Monday morning. He claimed he was "just doing 'art' in the city," the Orlando Sentinel reported.
In the arrest affidavit, the deputy wrote that Deshon also painted the words "ELS" and "city" onto the pole. He reportedly explained that three letters represent a nickname for the cartel kingpin.
"Brandon advised by writing 'ELS City' he is indicating that Orlando is now 'his city,'" the report said.
'ALCATRAZ OF THE ROCKIES' AWAITS EL CHAPO'S POSSIBLE ARRIVAL; INMATES INCLUDE BOSTON BOMBER AND TED KACZYNSKI
As for the numbers "239," Deshon allegedly said they were the area code for Fort Meyers, where he's from.
While documenting the graffiti, the deputy said she was flagged by an employee of a nearby apartment complex who said he'd seen Deshon also spray the letters "EL" onto the side of a green transformer box.
A representative for the Orlando Utilities Commission, who owns both the light pole and the utility box, told the deputy they wanted to press charges and estimated the damage at $3,500, the Sentinel reported.
Deshon was arrested on a felony charge of criminal mischief.
The newspaper reported that, when he arrived at Orange County Jail, Deshon repeatedly threatened to hire a "crackhead" to find the deputy and kill her and her entire family.
A charge of threatening a law enforcement officer was added against Deshon, who remains in the jail as of Wednesday morning. Bail was set at $1,150.
CLICK HERE TO GET THE FOX NEWS APP
Meanwhile, Guzman is expected to spend his life behind bars after he was convicted in Brooklyn, N.Y. on Tuesday on numerous drug and conspiracy charges relating to his leadership of the Sinaloa drug cartel.