Florence aftermath: 'Catastrophic, life-threatening' flooding risk as storm shatters rainfall records
NEWYou can now listen to Fox News articles!
Tropical Depression Florence, which caused at least 17 deaths and knocked out power for almost a million people, has inundated parts of North Carolina with record-shattering rainfall that's expected to push rivers over their banks in the coming days and could spawn dangerous mudslides.
The slow-moving storm is expected to dump another 5 to 10 inches of rain in western North Carolina and southwest Virginia, on top of the 20 to 30 inches that have already fallen since Florence came ashore Friday as a Category 1 hurricane with 90 mph winds.
"This storm has dumped nearly two feet or more in some places. The strongest storm bands are dumping nearly two to three inches per hour," said North Carolina Gov. Roy Cooper during a midday Sunday news conference.
The 17 fatalities include a mother and her 8-month-old child, who were killed when a massive tree crushed their house; a 61-year-old woman who was killed when the vehicle she was driving struck a tree; a 77-year old man died after he went outside to check on his dogs and was blown down; three additional people died because of flash flooding on roadways; a truck lost control on a flooded road, killing the driver.
In North Carolina, 703,184 homes were without power and an additional 59,000 were without power in South Carolina. Over 26,000 people were in shelters in three states and more than 3,375 flights were canceled as a result of the storm.
"Eventually the skies will clear and the floodwaters will recede. When they do, we're ready to take on the challenge of rebuilding North Carolina," Cooper said during the briefing.
FEMA Administrator Brock Long said Florence would continue to impact North Carolina and that rebuilding could cost "in the billions of dollars" during an exclusive apperance on "Fox News Sunday."
"This is going to be a long, frustrating recovery," Long said.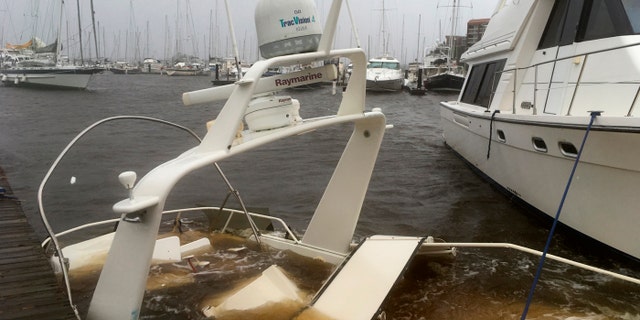 A few tornadoes were also possible, forecasters said. A tornado watch was issued early Sunday morning for New Hanover County until 5 p.m. EDT.
New Hanover County spokeswoman Janine Powell told the Port City Daily that evacuated residents should "stay away and off the roads altogether."
"We have sent damage assessment teams out this morning," Powell said. "We just got word from the state highway patrol that I-40 is impassable." I-40 is the main corridor between Wilmington and Raleigh.
Flash flood warnings were issued for parts of North Carolina on Sunday extending into the afternoon and officials urged residents to stay off of roads.
Officials have already rescued more than 500 people in high waters around New Bern and Jacksonville, North Carolina.
"There were some people who made the dangerous decision to not heed the evacuation notices down in New Bern a number of the people who had to be rescued over the past 24 – 36 hours were largely people who decided to stay in an area that was judged unsafe," said Republican Sen. Thom Tillis of North Carolina on "Fox News Sunday."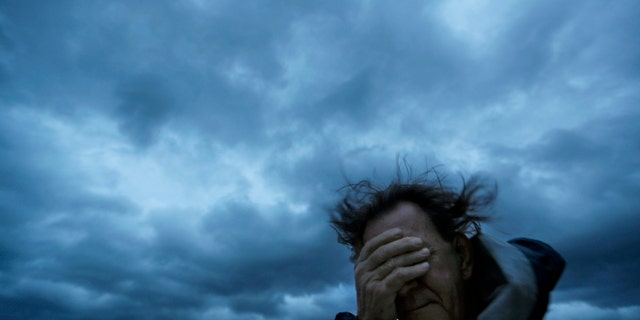 In Fayetteville, the Cape Fear River on Sunday was 3 feet away from flooding levels — hitting 32 feet Sunday morning, rising 18 feet in 24 hours. The National Weather Service said the flooding will worsen in the early part of this week as the river eventually will reach a height of more than 62 feet there.
FLORENCE WEAKENS TO TROPICAL DEPRESSION, BUT FLOODING THREAT REMAINS
In other areas, such as the Tar River in Greenville, the National Weather Service reported "devastating flooding similar to Hurricane Floyd."
"As Florence moves through North Carolina, the shallow-water, surface response and port reconstitution of the Coast Guard will continue to accelerate," said Capt. Bion Stewart, leader of the Coast Guard's response to Hurricane Florence in North Carolina, in a statement. "Our teams have been coordinating with our local, state and federal partners to ensure that as favorable operational conditions increase, we work together as efficiently and effectively as possible."
"Numerous homes adjacent to the river in the city of Greenville are inundated. All roads in and around Greenville are flooded and impassable. Tributaries back up and flood homes, businesses, and roads in areas that are miles away from the river," the NWS reported on its website early Sunday morning.
Meteorologist Ryan Maue, of weathermodels.com, calculated that Florence could dump a staggering 18 trillion gallons of rain over a week on North Carolina, South Carolina, Virginia, Georgia, Tennessee, Kentucky and Maryland. That's enough to fill the Chesapeake Bay or cover the entire state of Texas with nearly 4 inches of water.
North Carolina alone is forecast to get 9.6 trillion gallons, enough to cover the Tar Heel state to a depth of about 10 inches.
In Lumberton, the Lumber River is experiencing major flooding after rising to 19 feet early Sunday. Forecasters predict the waters will hit 24 feet by midday Monday, which could tie a record set by Hurricane Matthew in 2016.
State officials warned that travel is "extremely hazardous across North Carolina," and drivers were asked to avoid all roads south of U.S. 64 and east of Interstate 73/74. Officials published a map with a safer route that bypasses North Carolina entirely. Hazardous driving conditions aer expected to continue for several days.
US COAST GUARD MEMBER 'REMOVED' AFTER MAKING 'OFFENSIVE' OK SIGN ON LIVE TV
Duke Energy said on Saturday that heavy rains from Florence caused a slope to collapse at a coal ash landfill at a closed powe station outside Wilmington, North Carolina.
Duke spokeswoman Paige Sheehan told the Citizen times that about 2,000 cubic yards of ash have been displaced at the Sutton Plant and that contaminated storm water likely flowed into Sutton Lake, the plant's cooling pond.
The company hasn't determined if any contamination may have flowed into the swollen Cape Fear River and Sheehan said the company had reported the incident to state and federal regulators.
North Carolina Gov. Roy Cooper called Florence an "uninvited brute" that could wipe out entire communities as it grinds its way across land.
"The face is this storm is deadly and we know we are days away from an ending," Cooper said.
Fox News' Barnini Chakraborty and the Associated Press contributed to this report.