Flames tear through former restaurant on California pier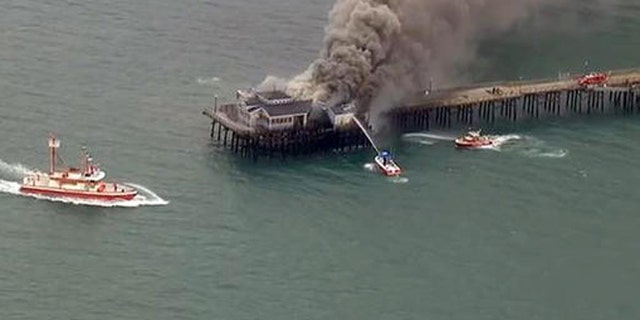 NEWYou can now listen to Fox News articles!
SEAL BEACH, Calif. – Fire raged through a vacant restaurant on the ocean end of Southern California's Seal Beach Pier early Friday, leaving the structure in ruins, with much of its roof collapsed.
A fleet of fireboats raced to the scene and directed water cannons toward the flames while 70 firefighters battled the blaze from atop the pier, finally quelling the inferno in less than two hours.
A firefighter suffered a minor injury and was taken to a hospital, said Orange County Fire Authority Capt. Steve Concialdi.
Firefighters found no one inside the structure, formerly a Ruby's Diner that closed in 2013, and has been fenced off for years.
The cause of the blaze was under investigation.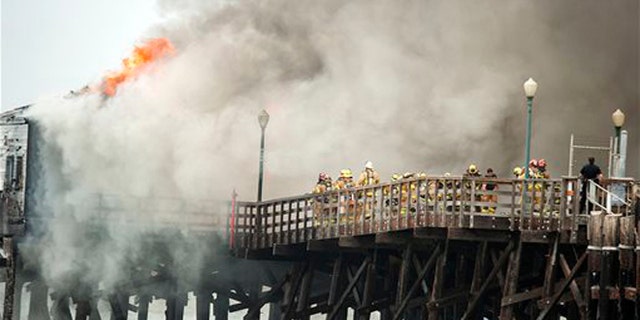 Witnesses reported fire near the restaurant around 7:35 a.m., Concialdi said. It's unclear whether the fire started in the building or on the pier itself.
The pier remained stable but was to remain closed for inspection by structural engineers, authorities said.
Located just south of the giant twin ports of Los Angeles and Long Beach, Seal Beach is a quiet city of just over 24,000. Its pier was first built in the early 1900s and was rebuilt after being badly damaged by a storm in the 1980s.
"It's just very sad," said Kelly Wyatt, 53, who walked down to the beach when she heard the pier was burning. "It's a small town, it's a close community, and our pier is an integral part of where we live."
Local resident Dennis Scheele, 60, said he was awakened by sirens and went down to the pier.
"I saw a lot of smoke ... it looked like flames on the front side of the restaurant," he said.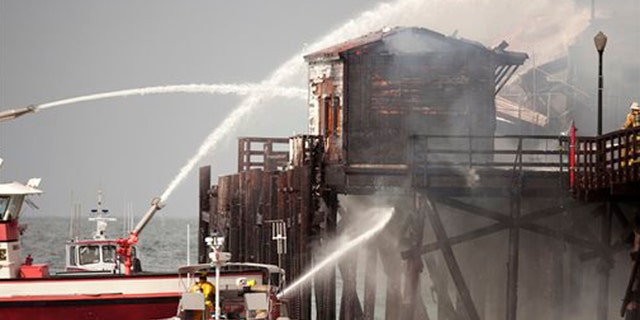 He noted that the end of the pier has been blocked off for several years and people had been frustrated by that and because the vacant building was becoming something of an eyesore.