Flag Vandalism Around July 4 Sparks Outrage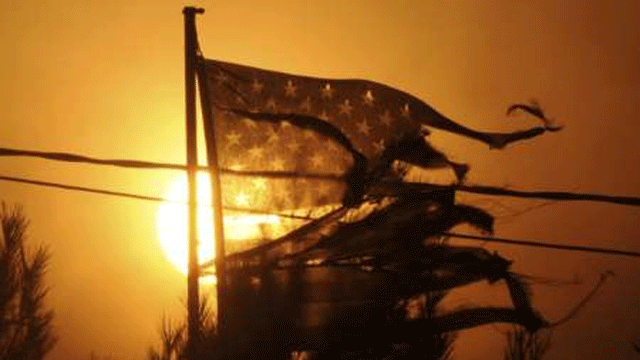 As the country celebrated its birthday this month, residents in some towns across the United States were shocked to learn of numerous flag burnings and other vandalism in their own communities.
Beginning just two days before July 4 and continuing through July 11, four incidents of flag burning occurred in Roselle Parks, N.J., home to many active and veteran military men and women.
"One flag was totally burnt down to the pole," Roselle Police Chief Paul Morrison told Foxnews.com. "People in town are extremely upset, and they have described it as disgusting and disgraceful. And I agree with them 100 percent."
A similar incident occurred on July 7 in the Canyon Creek subdivision of Richardson, Texas. A total of 53 flags planted by local Boy Scouts in front of their respective homes were found torn from their poles, according to Investigator Jonathan Wakefield of the Richardson Police Department.
"They were more or less ripped off the pole or cut off and the poles were damaged or dent," Wakefield told Foxnews.com. "There have been no new leads or developments in the case."
Morrison could not confirm if there have been any leads on the identity of the vandals in Roselle Parks, as the case is still under investigation, but he said that those responsible could face jail time.
"You are willingly starting a fire, it's dangerous and you are endangering lives," Morrison said. "That could carry a prison sentence."
"Our concern is not only that you're burning the flag but that the pole is attached to homes, and God forbid they light on fire."
While no one has been physically hurt, many residents of Roselle Parks were shocked and disturbed that someone in their town would commit such a crime.
"When I went out to get my newspaper, I looked for the flag and I saw that it was torn from the pole and pieces of it were melted onto the pavement," one victim, Robert Lingenfelter, told Foxnews.com. "It was completely destroyed and all I had left were the grommets."
"I'm hoping it was only some disrespectful teenagers having what they thought was a little fun," said Lingenfelter, who thinks if the vandals are just teens, they need a little lesson in why he and so many others fly their flags proudly.
"I would tell them a little story about how we got the flag and all the men and woman who are making it possible for them to have the right to burn the flag," Lingenfelter said. "We have people dying all around us, good Americans that are defending us and our rights."
To those who are burning the flags, Lingenfelter has another message for them: "If they don't want to live under the flag, then move."