Fire erupts at Northern Calif. plastics plant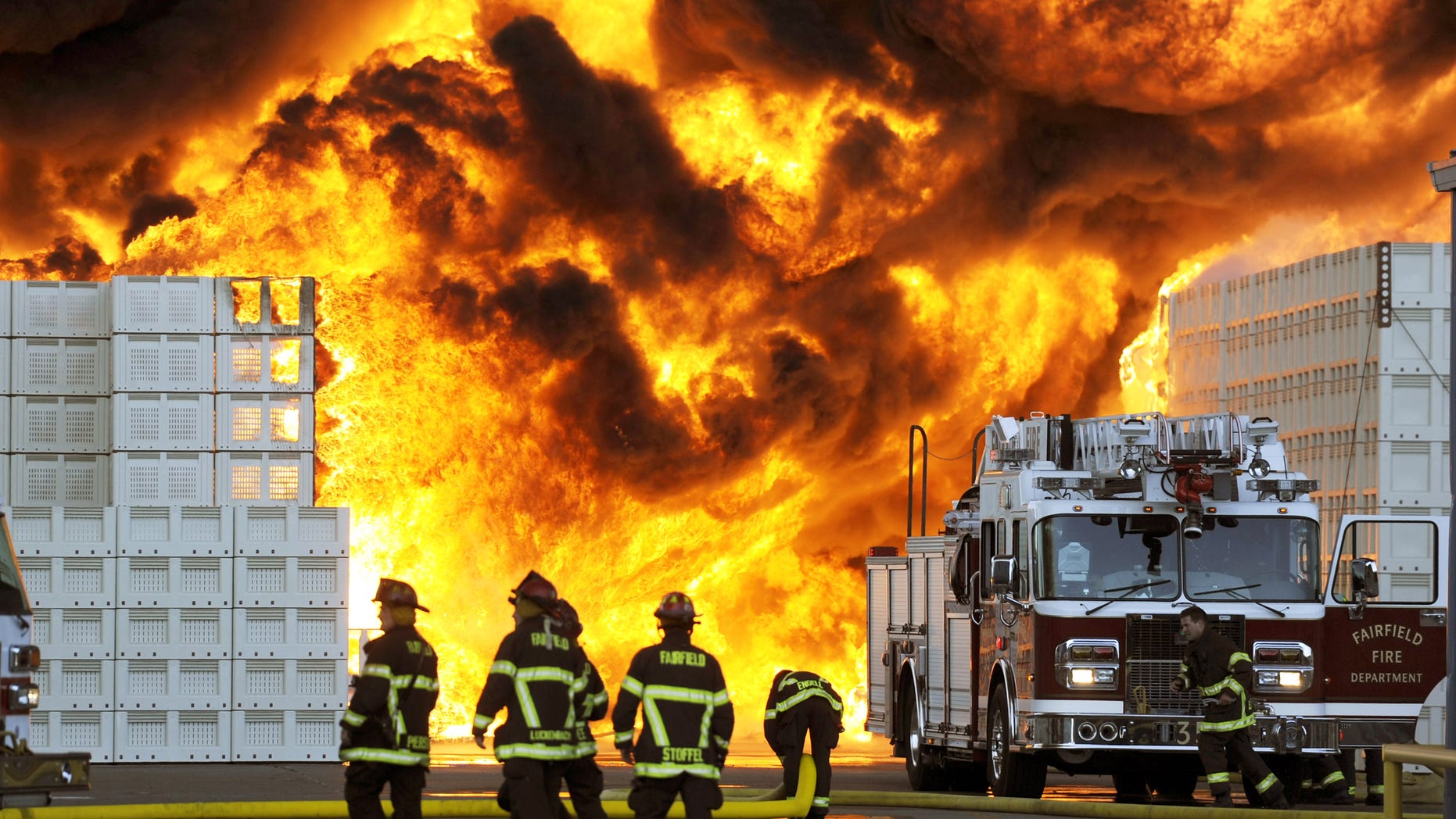 FAIRFIELD, Calif. – A fire at a plastics company sent black smoke billowing hundreds of feet into the air Tuesday, but officials said no building damage or injuries were reported.
The fire broke out about 1 p.m. in an outdoor storage area at the Macro Plastics Inc. complex near Travis Air Force Base, said city spokeswoman Gale Spears.
A thick plume of dark black smoke was visible for miles, drifting eastward to the south of Sacramento. Fairfield is in the eastern San Francisco Bay area.
Businesses adjacent to the fire were evacuated and residents within a mile of the blaze were asked to stay indoors.
Macro Plastics makes plastic bins used in harvesting grapes and other agricultural products. Stacks of the perforated plastic bins could be seen burning in footage from KCRA-TV in Sacramento.
The burning plastic produced thick, black hydrocarbon smoke and a very hot, swirling fire. The Solano County health department and specialists from the Bay Area Air Quality Management District were monitoring the air, said district spokeswoman Kristine Roselius.
"It's smoke, and it's always a good idea to avoid smoke," Roselius said, but added that the district had no information about unusually toxic chemicals in the fumes. Inspectors took air samples to be tested, she said.
The website for Macro said the containers are made from injection-molded polyethylene and polypropylene. The company introduced the products in the 1980s as a replacement for wooden crates used by grape and stone-fruit farmers.
Hazardous materials officers from the base were also evaluating any possible threat, Yahnke told KCRA.
Employees accidentally set the fire while doing routine maintenance work involving an open flame or torch, Spears said.
The company said in a statement that all employees were evacuated unharmed and none of its buildings were damaged. No estimate of the dollar amount of the damage caused to the bins was available Tuesday evening.
The wind was dispersing the smoke quickly as it moved eastward. By 4 p.m., the towering flames and black smoke had been knocked down to a dull gray, but the sky downwind remained murky as firefighters worked. As of Tuesday evening, Spears said the fire was fully contained but that firefighters would be monitoring the scene throughout the night for any hot spots.
"The weather was on our side today. As awful as that plume was, we didn't have our typical 25 mph winds," said Spears.
As many as 60 firefighters from Fairfield and four nearby departments used 21 vehicles to pour water on the blaze, Spears said.
A spokeswoman for the air force base, Technical Sgt. Renni Thornton, said the military facility advised personnel to avoid unnecessary outdoor activity. It also rerouted some traffic leaving the base to avoid the area near the fire, but operations there were otherwise not affected.