Fear, resolve and more security at Charlottesville's temple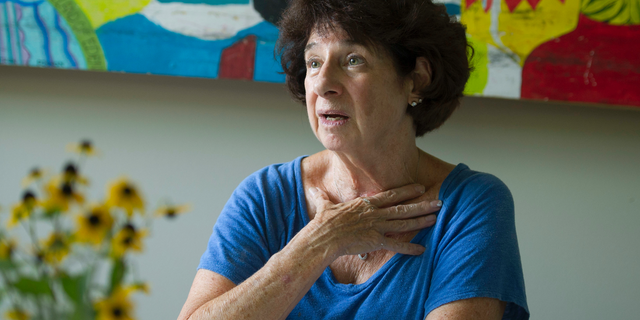 CHARLOTTESVILLE, Va. – For Diane Gartner Hillman, the new reality of being Jewish in Charlottesville sank in when she had to leave Congregation Beth Israel through the back door.
On any other Saturday, worshippers at the city's lone synagogue would have left through the front and walked without fear to their cars, parked near the statue of Gen. Robert E. Lee in Emancipation Park.
But now, men wearing white shirts and khaki pants and other white supremacists carrying semi-automatic rifles were streaming past their sanctuary, taunting Beth Israel with phony Brooklyn accents and mocking Yiddish expressions, such "oy gevalt."
"We were in a different world than where we had been previously," Hillman, 69, said Friday, as a stream of people entered the synagogue, now guarded by three police officers out front and several more in the park. "We just don't know where things are going to go from here."
The presence of hundreds of white nationalists and the loss of three lives last weekend have members of the synagogue confronting new levels of anxiety and resolve. Anti-Semitic vitriol and violence has been on the rise in the United States, according to the Anti-Defamation League and other organizations that monitor hate groups. But the dynamic in Charlottesville showed an intensity of bigotry rarely seen out in the open.
Writing for the website of the Union of Reform Judaism, Beth Israel President Alan Zimmerman said Nazi websites had called for the temple to be burned.
"Fortunately, it was just talk - but we had already deemed such an attack within the realm of possibilities, taking the precautionary step of removing our Torahs, including a Holocaust scroll, from the premises," he wrote.
Beth Israel hired an armed security guard for the first time last Saturday, and plans to increase security, according to the congregation's Facebook page. One Beth Israel member was "injured by the terrorist who used his car as a weapon, but is recovering at a local medical center and is expected to do so fully," that post said.
As much as the show of hatred increased fears, it also boosted a sense of community in this normally quiet college town.
Cale Jaffe, a University of Virginia law professor, watched as the white nationalists marched past with guns, helmets and body armor, "explicitly with the intent of intimidation and to create violence," and for the first time, felt anxious about walking into his synagogue, he said.
"But it has crystalized for me why it's so important to push through that anxiety and step inside the sanctuary," said Jaffe, 44. "It made it clear that's a place I need to be."
And many people in Charlottesville who aren't Jewish have come to Beth Israel to show their solidarity, Jaffe said. "What gives me hope going forward is knowing so many people in the larger Charlottesville community feel that way and are there with us."
___
AP National Religion Writer Rachel Zoll contributed from New York.