Father of Washington high school shooter convicted of gun charges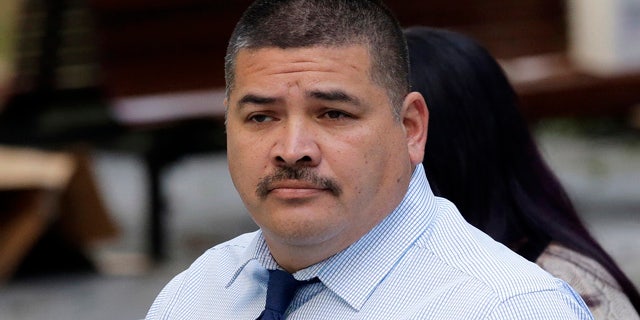 NEWYou can now listen to Fox News articles!
SEATTLE – A federal jury on Tuesday found a Washington state man guilty of illegally owning firearms, including the handgun his son used to kill four of his friends and himself last year in a high school cafeteria.
Raymond Fryberg was convicted of six counts of unlawful possession of a firearm. He was the subject of a 2002 domestic violence protection order that prohibited him from having firearms.
The jury rejected Fryberg's claim that he didn't know about the protection order and therefore didn't know he couldn't have guns. Fryberg didn't testify and his lawyers didn't call any witnesses during the three-day trial in U.S. District Court in Seattle.
Fryberg's son, 15-year-old Jaylen Fryberg, killed three 14-year-old girls and a 15-year-old boy who was his cousin after inviting them to lunch. He injured another one of his cousins, a 14-year-old boy, in the Oct. 24 shooting at Marysville-Pilchuck High School north of Seattle.
Raymond Fryberg's lawyer, John Henry Browne, had told jurors that Fryberg passed at least a dozen background checks and no law enforcement agency ever said he was prohibited from owning guns.
Assistant U.S. Attorney Ye-Ting Woo told the panel Fryberg was served with a notice about a hearing to discuss the protection order sought by his former girlfriend, but he chose to ignore it.
The Tulalip Tribal Court judge granted the order, but authorities said it was never entered into any state or federal databases, so when Fryberg went to a store to buy guns, he passed the background checks. Prosecutors said Fryberg lied on the firearms purchasing forms when asked if he was the subject of a protection order and took the guns home.
Federal agents learned about the guns after the school shooting, but the shooting was not discussed during the trial because Fryberg didn't face charges related to his son's actions.
Sentencing was set for Jan. 11. Fryberg faces up to 10 years in prison.