Exclusive: Trump pardon remains elusive for still-hopeful former Navy sailor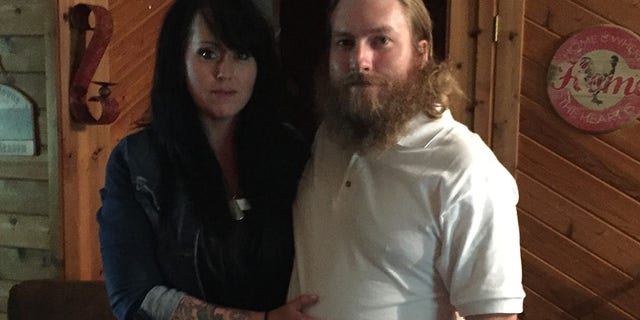 A former Navy sailor whose conviction and imprisonment for taking photos inside his nuclear submarine were criticized by candidate Donald Trump has been released - and the one-time mariner is now hoping President Trump will follow through with a pardon.
Kristian Saucier, 30, was convicted in 2016 of unauthorized retention of national defense information, which is a felony, and received an "other-than-honorable" discharge from the Navy. He had faced up to 10 years in jail.
In his first interview since leaving a Massachusetts jail Wednesday morning, Saucier told Fox News that his decision to take pictures 10 years ago was immature and showed poor judgment, but that he meant nothing more than to preserve memories of a job he was deeply proud to have.
"It was a mistake," Saucier said. "Everyone I know in the military takes pictures, not for some nefarious purpose, but so they can have them so they can one day look back and be proud."
Saucier believes he was an easy target for federal authorities who felt pressure to punish breaches involving classified information. He hopes that President Trump will follow through on indications he gave during his campaign -- and earlier this year – that he might give Saucier a pardon.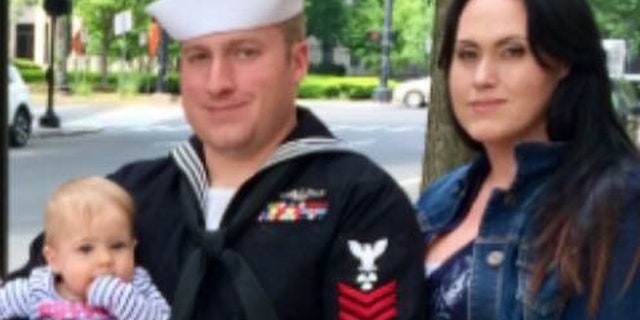 In June, however, he got a letter denying him permission to file a pardon request.
The White House declined Wednesday to comment on the matter.
They made me out to be this villain, and felon. I feel like I was a sacrificial lamb. I never leaked anything, they used me to make an example. They prosecuted me to the full extent of the law.
"Hindsight is 20-20, so I wouldn't take the pictures" if had to do it all over again, the former sailor said. "But I don't feel guilty. I know I didn't do it for the wrong reasons."
Saucier is home now, where he plans to celebrate his daughter's second birthday on Thursday, and is looking forward to embarking on a normal family life.
But he has to wear an ankle monitor for several months and stick to a curfew. Then for an additional six months, he will be allowed to venture out to work -- under strict supervision.
Saucier said he has not lost hope that Trump will grant him a pardon, although he is bewildered by the June letter indicating otherwise.
"I was hopeful at the beginning, after that I went on an emotional roller coaster," he said. "He was very vocal, his campaign invited my mother to Trump Tower about it last year. But then nothing happened. We were never contacted by anyone at the White House" after Trump's election.
Many political leaders and conservatives criticized the prosecution and punishment of Saucier, calling it overzealous and hypocritical when compared to how former Secretary of State Hillary Clinton allegedly mishandled classified emails without penalties. Many also drew comparisons between the judicial pursuit against Saucier and President Obama's sentence commutation and pardon of former Army intelligence analyst Chelsea Manning, who served some six years of a 35-year sentence for intentionally leaking classified government and military documents to the anti-secrecy website WikiLeaks.
Manning accepted responsibility for leaking the material to WikiLeaks to raise public awareness about the effects of war on civilians.
"They made me out to be this villain, and felon," Saucier said of prosecutors. "I feel like I was a sacrificial lamb. I never leaked anything. They used me to make an example. They prosecuted me to the full extent of the law."
I know in my heart that I served this country with pride. I gave 11 years of my life in the Navy defending this great country. No matter what they put on paper, nothing will change that.
"Perhaps if my spouse had met with [then-U.S. Attorney General] Loretta Lynch on the tarmac, I'd never have gone to prison," Saucier said, referring to former President Bill Clinton's controversial meeting with Lynch on a plane in Phoenix last year that drew criticism because the Justice Department was in the midst of investigating Clinton's private email server.
During Trump's campaign, he balked at how Saucier's actions on the nuclear submarine were handled by prosecutors.
"They took the kid who wanted some pictures of the submarine," Trump said in a campaign stop. "That's an old submarine; they've got plenty of pictures. If the enemy wants them, they've got plenty of them."
Then, earlier this year, Trump said in a televised interview with Fox News host Sean Hannity that he was examining Saucier's case for a possible pardon. He contrasted his punishment with the FBI's decision not to charge Clinton for using her personal email server while she was secretary of state.
"I think it's very unfair in light of what's happened with other people," Trump said.