Ex-soldier, ISIS supporter sentenced in execution-style slaying of Denver security guard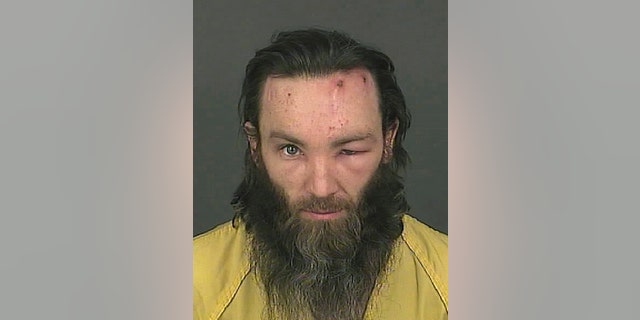 NEWYou can now listen to Fox News articles!
An ex-soldier and a self-proclaimed ISIS supporter was sentenced to life in prison without parole Thursday for the execution-style slaying of a Denver transit security guard last year.
Joshua Cummings, 38, was found guilty of first-degree murder Thursday in the death of Scott Von Lanken, 56, after a three-day trial. Cummings was issued the mandatory sentence shortly after the verdict was read.
On Jan. 31, 2017, the ex-soldier walked up behind Von Lanken while the guard was speaking to two women late at night, put a gun to his neck and shot him, police said.
OFFICER FATALY SHOT IN COLORADO IDENTIFIED; MANHUNT UNDERWAY FOR TWO SUSPECTS
One of the women told investigators that Cummings said something like, "Do what you are told," just before he opened fire and ran away, according to police. Cummings was found a short time later hiding on the terrace of an apartment building with a handgun.
Von Lanken was a former police officer who was working as a contract security guard for the Denver area's Regional Transportation District. He was also a pastor at Valley Assembly of God in Loveland, Colo., the Denver Post reported. He had been a pastor in Ohio for two years before returning to Loveland.
Cummings, who joined the Army in 1996 but never saw combat, told The Associated Press shortly after his arrest he supported ISIS, but investigators said they have not found any evidence that the terror group was linked to the killing.
Cummings also said he pledged his allegiance to ISIS and fasted behind bars for three days to purge himself of an oath he took to uphold the U.S. Constitution.
The Texas native declined to say if his support of ISIS led him to shoot Von Lanken. Officials believe the Muslim convert moved to Denver in 2016 from Pampa, Texas, the Denver Channel reported.
COLORADO FIREMEN RESCUE DEER FROM FROZEN LAKE: HE WAS 'TOO TIRED TO MOVE'
Denver's Muslim community emailed the Department of Homeland Security on Dec. 24, 2016, expressing concerns over statements Cummings made at mosque events. The email stated Cummings was "very radicalized" and was fond of Shariah law.
The FBI has declined to comment on if agents took any action regarding the email about Cummings or if he was interviewed at that time.
Cummings had been vocal on Twitter about his views on Islam, and he was both critical and supportive of law enforcement.
The Associated Press contributed to this report.