Ebola Military Response Team Not Activated For New York Case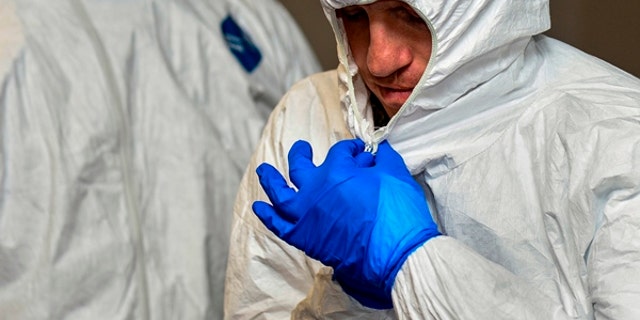 The Pentagon said Friday that there are no immediate plans to send the new military medical rapid response team to New York City, where a doctor was confirmed as having contracted the virus.
"There are no plans, no discussions on sending the new 30-person team" to New York, said Rear Adm. John Kirby, the Pentagon press secretary.
The military did send an Air Force C-37 jet to New York on Thursday to transport blood samples taken from the doctor for testing at the Centers for Disease Control in Atlanta, said Lt. Col. Thomas Crosson, a Pentagon spokesman.
Crosson said three doctors from the National Institutes of Health in Bethesda, Md., traveled on the Air Force plane, picked up the samples in special packaging from Bellevue Hospital and brought them by way of LaGuardia Airport in the borough of Queens to Atlanta aboard the C-37.
The CDC later confirmed previous testing in Bellevue that the 33-year-old doctor, Gilbert Spencer, was positive for Ebola. Spencer had worked for the aid group Doctors Without Borders in the West African nation of Guinea.
Ebola has hit hardest in Guinea, Liberia and Sierra Leone, where more than 4,500 deaths and nearly 10,000 infections have been reported, according to the World Health Organization.
Last week, Defense Secretary Chuck Hagel ordered U.S. Northern Command to set up a 30-person team of specialists to be ready to respond to domestic cases of Ebola.
The response team -- 20 critical care nurses, five doctors trained in infectious disease, and five trainers in infectious disease protocols -- were receiving specialized training at Fort Sam Houston in Texas this week and were expected to be ready to deploy next week.
-- Richard Sisk can be reached at Richard.Sisk@military.com