Decades-long White House peace protest interrupted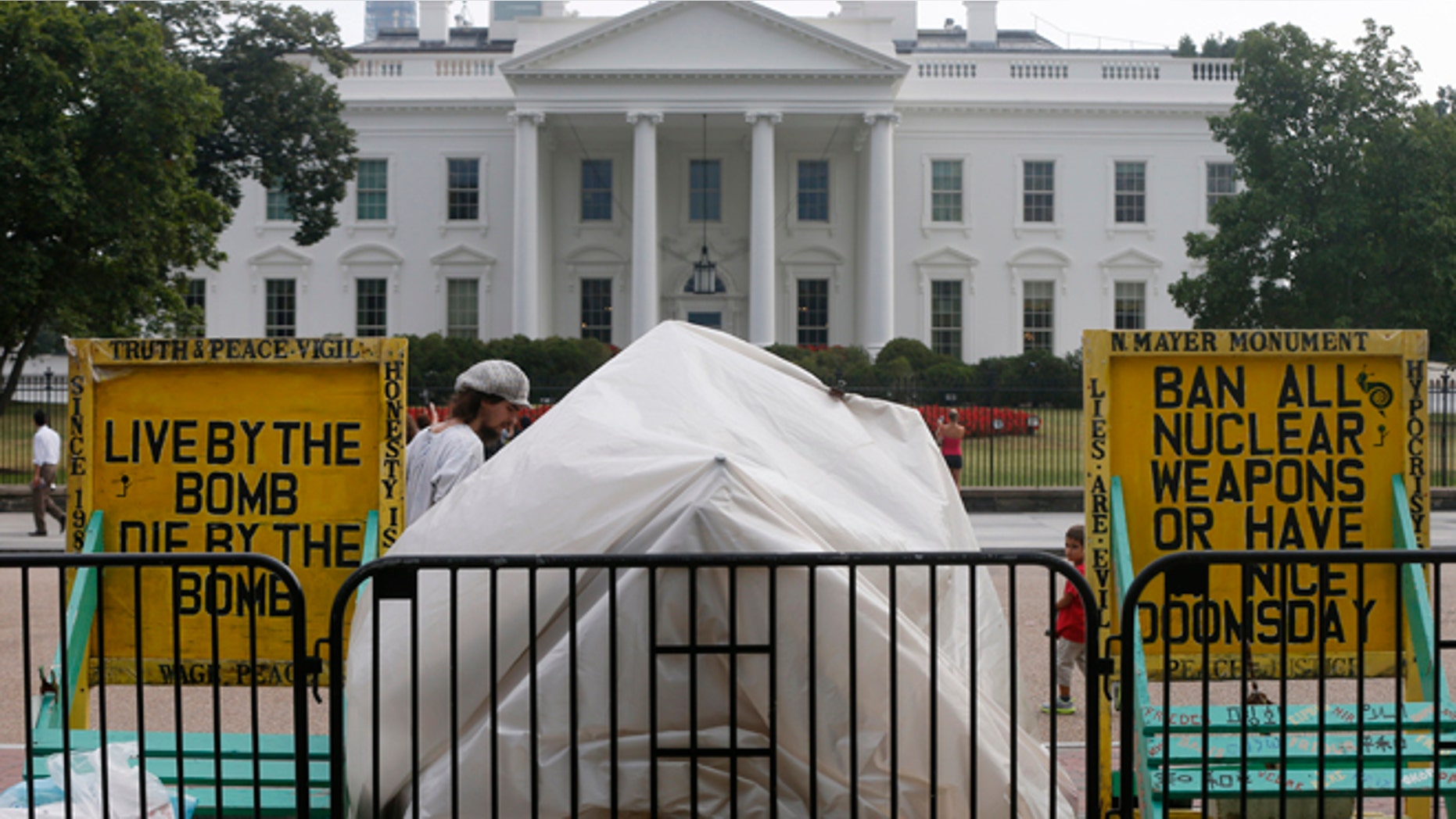 It's been a strange few days for Connie Picciotto.
The organizer of the "Peace Vigil," the longest-running protest in Washington, D.C., reportedly saw her efforts come to an abrupt end this week after 32 years of activism. But – just as quickly – things re-started, again.
Early Thursday, the National Park Service dismantled the small, makeshift encampment outside the White House Picciotto began in the early 1980's as a stand against nuclear arms proliferation, The Wall Street Journal reports.
The so-called "Peace Vigil," has continuously remained in place for all of those three-plus-decades, with those who man the vigil passing out flyers and informing passers-by about nuclear weapons.
National Park Service officials reportedly packed up the protest site, which stood in Lafayette Square, after the protestor charged with manning the encampment briefly abandoned it early Thursday morning  – a violation of park rules.
According to National Park Service regulations, 24-hour vigils outside the White House are permitted to remain in place only if they are continuously occupied.
"A longstanding vigil site on the south side of Lafayette Park was found abandoned early Thursday morning," the NPS told NBC News. "A U.S. Park Police officer interviewed two people as they left the site to determine whether the individuals were abandoning the vigil. With no one attending the site, the officer collected the materials and placed them in a U.S. Park Police storage facility for safekeeping until they could be retrieved by the owner."
"At first I felt terrible," Picciotto told NBC News. "But now I see all these people helping to attract attention that we need to stay here. Nevertheless, I was never going to give up. I can't."
The unidentified protestor who abandoned the "Peace Vigil," was reportedly not feeling well when he departed.  "I think he was not feeling well," Picciotto reportedly said.
Julie Turner, a social worker with the Downtown Cluster of Congregations nonprofit, told The Wall Street Journal that Ms. Picciotto had willingly moved from her spot when Inauguration celebrations required that viewing stands be built in that area. But on Thursday, Ms. Turner said she was surprised to hear that the shelter was gone.
"I'm wondering 'why now' because there's nothing going on there," she told the Wall Street Journal.
However, by Thursday afternoon, photos posted on Twitter showed Ms. Picciotto returning to the protest site.