Dangerous Halloween Decor: How to keep a silly-scary time safe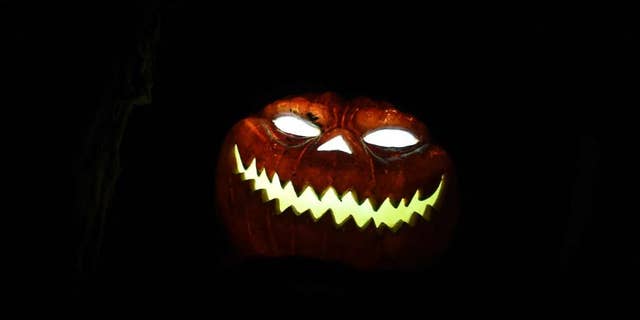 NEWYou can now listen to Fox News articles!
The trend for Halloween decorating this year appears to be "more is more."
Orange and purple lights dot shrubbery and porch railings. Scarecrows, tombstones and big spider webs adorn yards. Giant blow-ups scream "We're into Halloween!" to anyone and no one.
"Those big ghost or pumpkin inflatables you see in front yards actually make me nervous," said Carole Purcell of Columbia, Md. "I worry a toddler or a dog or cat could suffocate when they deflate."
To ensure that Halloween, so incredibly overdone these days, at least stays safe, make sure your displays are not hiding any hazards:
Don't overload electrical outlets. Decorative lights are trending for Halloween, so make sure you have enough outlets to handle all those tiny orange and purple lights.
Make sure the lights have no frayed wires and have been properly tested, with a UL tag affixed. Check last year's lights for broken bulbs that could injure kids and pets.
Light strategically — provide illumination for the most-used walkways. Check your Halloween scene for potential dark areas where kids, or their waiting parents, might trip and fall.
Keep all walkways clear of decorations for trick-or-treaters.
Fake coffins are potential hazards for small children and animals. Examine them for potential hazards inside and out, and make sure lids cannot close completely.
Make sure all decorations are fake! No real knives, decorative swords, pitchforks or the like should ever be used.
Forego large swaths of fake spider webs, usually purchased at drugstore or party-supply stores. Wildlife, including tiny screech owls, have been ensnared in them while swooping around the neighborhood.
Lit pumpkins should not be left in doorways and landings. It is too easy for a dog's tail or a child's skirt or coat to catch fire while passing by. Consider battery-operated candles for pumpkins displayed in low places, or solar candles for those placed outside.
Plastic cemetery fences should be kept near the house, not where kids can fall on them.
Halloween display villages have many tiny parts that are choking hazards. Place up high if little ones are near.
Keep Halloween Friendly
While it may be tempting, restrain from putting the name of your neighbor, boss, or ex-best-friend on a fake tombstone. (Keep the bad feelings to yourself!) Also, carving names in soft Styrofoam can release toxic fumes. Use pre-printed tombstones instead.
Turn off any sound-making decorations at a considerate time of night. Specter rattling chains don't allow others to catch any ZZZs.
Remind the kids that smashing pumpkins — even ones whose due dates have passed — is never a good thing to do. Curb kids' impulsive natures by discussing this before temptation sets in.
Consider the Pets
Although some pet costumes are pretty darn cute — think dachshund in a hot dog outfit or a poodle in a Renaissance faire neck ruffle — this is a miserable and frightening experience for some animals. Only if your pet seems A-OK with a costume should it even be considered. Make sure no loose ends are dangling, and that your dog can move freely and breathe easily. (Don't even think about dressing up the cat.)
Many households will buy candy well ahead of the big night. Remember to store the candy high up and away from animals. A bag of chocolate eaten by Fido could lead to extreme illness or even death. Wrappers can also be swallowed and cause intestinal blockages.
Also, keep your pet safely indoors on Halloween night. Put cats in a bedroom where they cannot slip out when you greet little ghosts and goblins, and supervise your dog at all times when he is out for a walk on this spooky night.
More from LifeZette.com:
Our Kids are Hyped Up: More are diagnosed with ADHD, and earlier than ever
Coddled Kids Crumble: Colleges see big lack of resilience among students
'I Felt More Joy than Pain': After Down syndrome news, this mom got to the other side