Crews searching for treasure hunter in New Mexico explore rocky terrain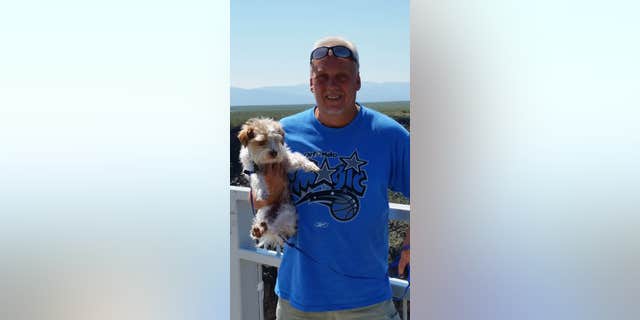 Crews searching for a treasure hunter who disappeared more than three months ago urged people at New Mexico's Bandelier National Monument on Thursday to stay out of the way.
Randy Bilyeu of Broomfield, Colo., vanished in early January while hunting for a $2 million cache of gold, jewels and artifacts after he set out to raft part of the Rio Grande northwest of Santa Fe. Officials say the search area includes dangerous rocky terrain.
"It's rugged country and it takes a pretty high level of expertise to work in that area," Bandelier Superintendent Jason Lott said. "We're actively pursuing the search and rescue and just ask that others don't try to engage in this."
The search-and-rescue mission restarted on Wednesday, days after a backpack turned up near a waterfall at Bandelier. Investigators wouldn't say whether it belonged to Bilyeu.
His dog and raft turned up along the river soon after his disappearance, but authorities called off the search in mid-January when the trail went cold.
Bilyeu's ex-wife, Linda, has been helping organize volunteers who spent countless hours hiking along the river, using drones, telephoto lenses and dogs to scan the area for clues. She said her ex-husband had a blue backpack.
Linda Bilyeu and her family have been steadfast, saying they're not giving up until they find out what happened to the father and grandfather who would have turned 55 on Feb. 21.
Randy Bilyeu had moved out West to live his dream -- finding the treasure of Santa Fe antiquities dealer and author Forrest Fenn. Thousands have been inspired over the last several years to search for the cache using cryptic clues provided by Fenn in his self-published memoir.
Like Bilyeu, treasure hunters have scoured remote corners of New Mexico, Yellowstone National Park and other parts of the Rockies in vain for the small bronze chest.
Fenn believes some 65,000 people have gone looking for the treasure. He said his intent was to get people outside and onto an adventure.
Family and friends say Bilyeu bought a raft and set out on Jan. 5 after scouting for two weeks along the river west of Santa Fe. He had a GPS device, a wetsuit and waders, and brought along his little dog, Leo.
More than a week passed before a worried friend reached out to Linda Bilyeu, who filed a missing person's report on Jan. 14.
Bilyeu left maps with markings in his car that fellow treasure hunters used in an attempt to narrow their search for him. He also left food, suggesting that he hadn't planned to be gone long.
The community that has formed around the search for Bilyeu shared their support and prayers Wednesday as the search-and-rescue team worked at Bandelier. They were all hopeful for some kind of news.
The Associated Press contributed to this report.