Congressional Gold Medal sought for WWII Ghost Army that duped Nazis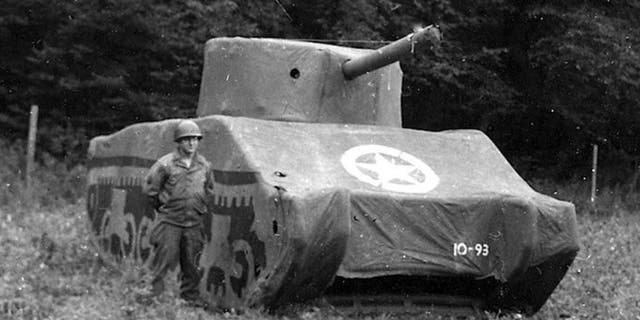 The American GIs who used inflatable tanks and sound effects to dupe the Nazis during World War II could be awarded the Congressional Gold Medal.
Two lawmakers say the Ghost Army's battlefield exploits in the months after D-Day deserve recognition at long last.
"It is finally time that the American people recognize their ingenuity and selflessness which saved countless American and Allied lives," Rep. Peter King (R-N.Y.) said. "They deserve their due."
King and Rep. Annie Kuster (D-N.H.) are sponsoring the "The Ghost Army Gold Medal Act" and the bill has already picked up 30 co-sponsors, The Washington Times reported Saturday.
A companion bill will be introduced soon in the Senate.
On the front lines from Normandy to the Rhine River, the Ghost Army used inflatable tanks and aircraft, sound effects, phony radio transmissions and illusion to carry out their mission, the Times reported.
The elite group, known officially as the 23rd Headquarters Special Troops, risked their lives to draw fire away from fellow GIs involved in the actual fighting, it reported.
The bill comes after filmmaker Rick Beyer's 2013 award-winning documentary, "The Ghost Army," and 2015 book,"The Ghost Army of World War II," brought attention to the little-known unit.
The Times reported that Ghost Army vets are living in 11 states and Washington D.C.
The "American Sniper" team, including actor Bradley Cooper, director Todd Phillips and producer Todd Philips, is currently working on a movie about the Ghost Army for Hollywood, the Times reported.
Congressional Gold Medals have gone to previous unsung World War II units including The Doolittle Raiders, The Monuments Men, Women Air Service Pilots and the Native American Code talkers, according to The Times.