Confession of Pennsylvania farm quadruple murderer heard in chilling video, details killing man with backhoe
NEWYou can now listen to Fox News articles!
The 21-year-old man who enlisted his cousin in a grisly quadruple murder on a Pennsylvania farm detailed the brutality of the slayings in a chilling confession released Wednesday, the same day he pleaded guilty to charges that will put him in jail for life.
Cosmo DiNardo made the admission to police last July, when he told authorities where he buried the bodies of 19-year-olds Dean Finocchiaro and Jimi Taro Patrick, 22-year-old Mark Sturgis, and 21-year-old Tom Meo in a bid to avoid the death penalty.
"I shoot Tom in the back. Drop him. Mark's like what the....(noise). He was such a big kid, I unloaded the gun on him," DiNardo said in the four-hour long confession obtained by FOX29.
Authorities said DiNardo was the mastermind of the killings, which took place on his family's 90-acre farm in Solebury Township, located about 30 miles north of Philadelphia. He was charged with murder in all four deaths. DiNardo's cousin, 21-year-old Sean Kratz, was charged in three of the deaths but rejected a plea deal on Wednesday. Prosecutors said they will seek the death penalty at Kratz's upcoming trial.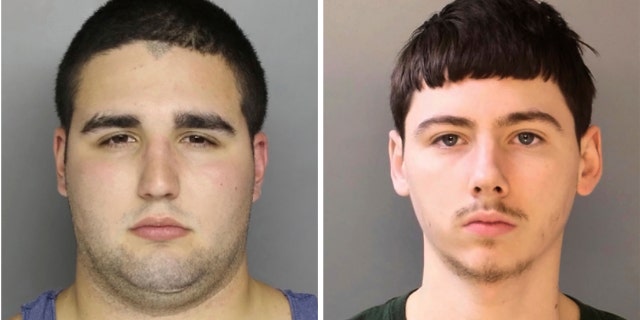 DiNardo lured the four young men to the farm with the promise of selling them marijuana. He described the murders that followed in graphic detail to police.
"So I dropped him, so he's paralyzed. He says 'I can't feel my legs. I can't feel my legs,'" DiNardo said regarding the last moments of Tom Meo's life.
"I run, grab the machine. I back until I run him over — dead instantly"
DiNardo then detailed to police how many times he shot Mark Sturgis, who was attempting to run after Meo was hit by gunfire.
"I shot at him I think five times," he told police.
MAN WHO ENLISTED COUSIN IN PENNSYLVANIA FARM MURDERS PLEADS GUILTY, TOLD HE'LL 'MEET SAVAGE' IN PRISON
The 21-year-old then explained, with chilling detail, how he finished killing Meo with a backhoe -- which was later used to bury the bodies of the four men.
"I run, grab the machine. I back until I run him over — dead instantly," DiNardo told detectives at the time.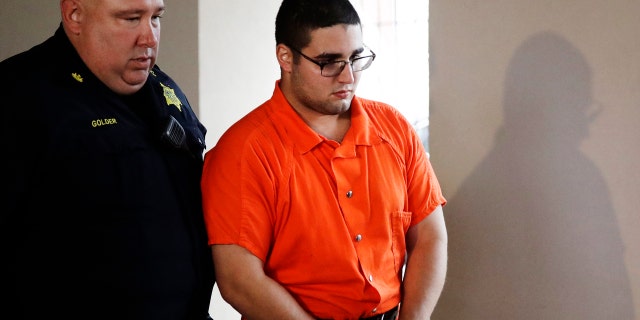 He also detailed how he tried to cover up evidence of the slayings by putting the bodies in a 12-foot deep metal tank that had been converted into a cooker and labeled a "pig roaster." DiNardo then lit them on fire.
"I had gasoline that was used — couple jugs of it. Took a jug or two, doused them and, you know, Sean had cigarettes. I don't remember who lit it," DiNardo said.
Kratz was also allegedly told what to do if police showed up at the farm while they were trying to hide the victim's bodies.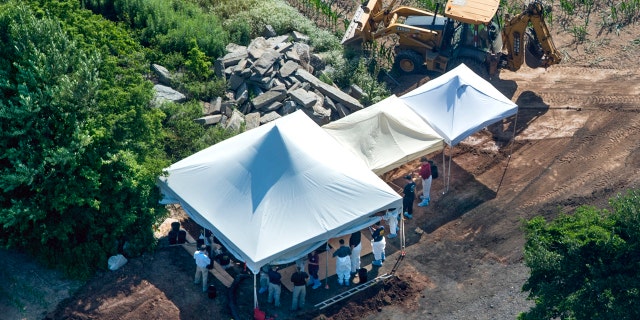 "Stand guard here. If anybody comes tell them it's private property, if you don't have a warrant or something get the f___ out of here," DiNardo told police in his confession.
WRONGFUL DEATH LAWSUIT FILED IN GRUESOME MURDER CASE AT PENNSYLVANIA FARM
The recordings, while discussed in court during DiNardo's confession, were not entered into evidence and are expected to be used for Kratz's upcoming trial, according to FOX29.
DiNardo on Wednesday was taken away to state prison, where he will serve a life sentence.
The families of the slain men are also suing DiNardo's parents, Antonio and Sandra DiNardo, who own the Solebury farm property and construction and concrete companies in Bensalem. The families say DiNardo's parents shouldn't have allowed him access to a gun, which was barred by law due to a previous commitment.
In his confession, DiNardo acknowledged selling handguns to local residents. Five months before the killings, police charged him with having a shotgun.
The Associated Press contributed to this report.