Carlos Slim, World's Richest Man, Gets Richer Supplying 'Obamaphones' to Poor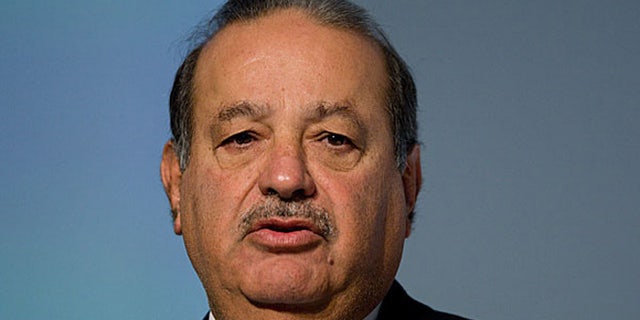 A Mexican telecom mogul who holds the title of world's richest man, and one of President Obama's top donors are both getting even richer from the U.S. government program that supplies so-called "Obamaphones" to the poor.
Carlos Slim, who has an estimated net worth of $70 billion, owns a controlling stake in TracFone, which makes $10 per phone for each device it provides to poor Americans. The company, whose president and CEO is Frederick "F.J." Pollak, also makes money from extra minutes and data plans it sells to subscribers who get phones and service through the government's Lifeline program. The program, which began in the mid-1980s, has exploded in the past four years after being expanded from supplying landlines to the poor to providing cellular phones.
[pullquote]
The phones came into the national spotlight after a viral video surfaced on YouTube in which a Cleveland, Ohio, woman praised the president, saying he needed to be re-elected because he gives out free phones.
"Everybody in Cleveland, every minority, got an Obama phone. Keep Obama as president. He gave us a phone. He gonna do more," the woman said in the video.
Slim's Movil America owns TracFone and recently snapped up service provider Simple Mobile for $100 million. TracFones and Simple Mobile service are huge players in the Lifeline program through the company's "SafeLink Wireless" brand. TracFone had 3.8 million subscribers through the federal program as of late 2011.
Pollak has donated at least $156,500 to Democratic candidates and committees this cycle, including at least $50,000 to the Obama campaign. His wife, Abigail, is a campaign bundler for Obama and has raised more than $632,000 for the president this cycle, and more than $1.5 million since 2007. She has personally contributed more than $200,000 to Democratic candidates and committees since 2008.
The Pollaks hosted Obama at their Miami Beach home in June for a $40,000-per-plate fundraising dinner, and hosted a similar event with Michelle Obama in July 2008. The couple personally donated a combined $66,200 to Obama's re-election effort that year.
U.S. Rep. Tim Griffin, (R-Ark.), who has been one of the biggest critics of the Lifeline program's explosive growth, said he can't blame Slim for doing lucrative business with the federal government.
"I'm not against a company making a profit," Griffin said. "If they are making money off the program, the blame goes to the federal government for creating the program."
Griffin recently introduced a bill on Capitol Hill to end the Lifeline program, which cost $1.6 billion in 2011, up from $772 million in 2008. While not technically a tax, the program is funded by mandatory fees tacked on to consumers' phone bills, then disbursed through the Federal Communications Commission and states.
"This program is rife with waste and abuse," Griffin said. "It's set up in a way where people can receive multiple phones for free."
Griffin said he has seen cases in which single individuals obtained dozens of the phones, and said under the lax requirements, more than 80 million Americans are eligible.
According to the FCC, "Lifeline is a government benefit program supported by the Universal Service Fund that provides a discount on phone service for qualifying low-income consumers. Lifeline helps ensure that eligible consumers have the opportunities and security that phone service brings, including being able to connect to jobs, family, and emergency services."
The FCC announced in July that new reforms saved $43 million in savings by eliminating duplicate subscriptions and outdated subsidies and claims that the agency is on track to recover $200 million for the year.
But Griffin said it's time to end a subsidy that gives the poor a luxury item and makes the world's wealthiest man richer.
"I simply do not think that the taxpayers should be footing the bill for someone's cell service and social interaction," Griffin said. "If that's the case, what should the government pay for and not pay for? Let's just start paying for everyone's gas."