California wildfire evacuees return to looted homes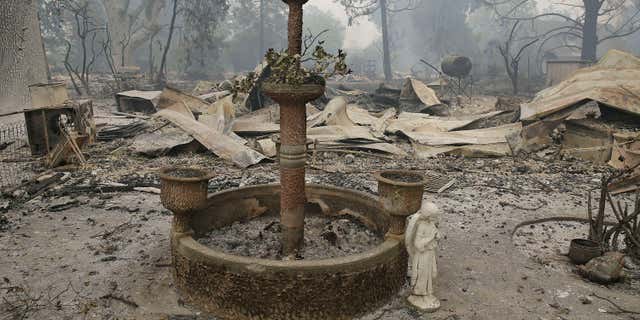 NEWYou can now listen to Fox News articles!
More than a dozen homeowners who evacuated during a devastating California wildfire returned to find their homes had been looted, authorities said Thursday.
At least six people were arrested on suspicion of burglary or planning to loot homes after the wildfire that started Sept. 12, destroying 1,300 homes and killing four people in Lake County. A total of 14 homeowners reported burglaries, Lake County Sheriff's Lt. Steve Brooks told the Santa Rosa Press Democrat.
One burglar broke into a house and spray-painted a car in the garage to make it look like a police vehicle, so the thief could get away easier, Brooks said.
He said a number of police departments around the Bay Area have been patrolling evacuated neighborhoods in an effort to stop the crime, but admitted that it wasn't enough.
"There are roads that aren't even on maps," said Brooks. "If someone's familiar with the area, I'm sure they know ways to get in and out."
The blaze north of San Francisco was 97 percent contained after burning more than 118 square miles and sending thousands of people fleeing homes. Residents and businesses in the county have filed more than 2,100 claims involving the fire, Madison Voss, a spokeswoman for the California Department of Insurance, told The Associated Press.
Residents and business owners who survived another deadly blaze in Amador and Calaveras counties have filed nearly 1,100 claims, Voss said. The fire started Sept. 9 and was 100 percent contained after killing two men, destroying 500 homes and blackening nearly 111 square miles.
It would take time to put a dollar amount on losses and damages in both fires, Voss said.
There was relief Friday for those displaced by the fires.
Gov. Jerry Brown issued an executive order to expedite emergency housing for those who need it in both fire areas. The move provides funding, frees up resources and waives zoning restrictions with the intent of moving more people into temporary mobile or manufactured homes.
Click for more from the Santa Rosa Press Democrat.
The Associated Press contributed to this report.