California sheriff's deputy killed responding to bar shooting proposed to his wife in same spot decades before
When Sgt. Ron Helus, of the Ventura County Sheriff's Office, responded to a shooting at a bar in California last week, he was entering the same building where he had proposed to his wife decades earlier.
Helus, 54, was set to retire nearly a year from now, but was one of 12 people who were killed on Nov. 8 by a former Marine at Borderline Bar & Grill in Thousand Oaks.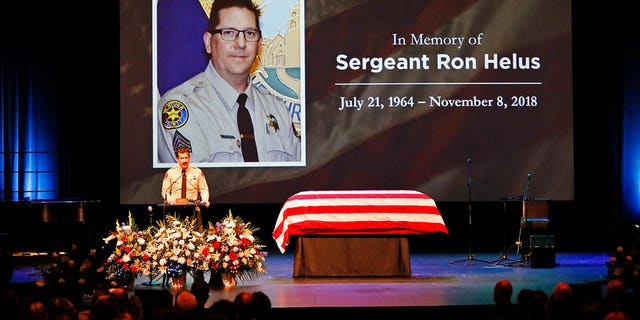 The sergeant "gave it his all" as he instinctively ran into the bar when he heard gunfire, but was ultimately killed. Sheriff Geoff Dean said after the mass shooting that Helus "died a hero because he went in to save lives, to save other people."
CALIFORNIA SHERIFF'S SGT. RON HELUS KILLED IN BAR SHOOTING, 'DIED A HERO,' MADE LAST CALL TO WIFE
Dean said last week that when Helus received the call about the shooting, he was on the phone with his wife, Karen. He told her, "I gotta go handle a call, I love you. I'll talk to you later."
At a tribute held Thursday to honor Helus' memory, a pastor at the Calvary Community Church noted that Helus proposed to Karen inside what is now the Borderline Bar.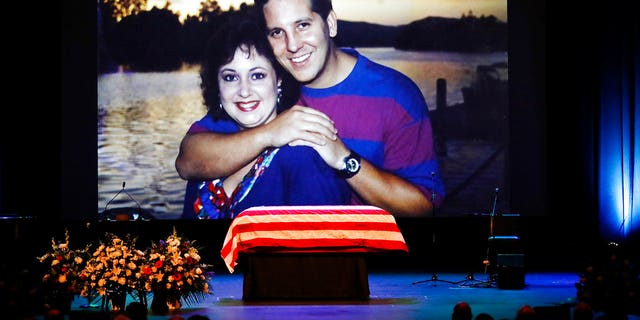 "They were in the old Charley Brown's restaurant, which is now the Borderline," Pastor Steve Day said, according to the Los Angeles Times. "How ironic."
Helus, a 29-year veteran of the department, is said to have snuck the engagement ring, that was inside of a box, into Karen's purse. The pastor said that when she found the ring, Helus got down on one knee in the restaurant.
OFFICERS KILLED IN THE LINE OF DUTY IN 2018
Thousands attended the 90-minute ceremony in Thousand Oaks -- including musician Billy Ray Cyrus, who said he told the family before the service, "I'm probably going to have to change the definition of hero. From now on it can just be a picture of Ron Helus."
Cyrus played his song "Some Gave All," which he dedicated to Helus, singing the words: "Some stood through for the red, white and blue. And some had to fall. And if you ever think of me, think of all your liberties. And recall, some gave all."
Karen, in a written letter that was read aloud at the ceremony, called Helus, whom she had met in a college anatomy class, her personal hero.
"You were my husband and best friend," she wrote. "You were always the one who made me laugh and who protected me from all that tried to harm me."
Fox News' Travis Fedschun and The Associated Press contributed to this report.