California Delta fire shuts down busy freeway after it triples in size
One of America's busiest freeways is closed as firefighters in California battle a blaze just south of the Oregon border, stranding hundreds of truckers trying to navigate the lone interstate highway stretching from Mexico to Canada.
At 24,000 acres, the so called Delta fire near Redding tripled in size Thursday but slowed overnight as weather conditions improved and officials doubled manpower and helicopters available to fight the blaze.
"It's been a long summer, it's been a long, long fight" a weary firefighter told a local Fox affiliate. "Yeah we've been everywhere from the Carr to the Wellback to the Mendocino Complex, now we're here."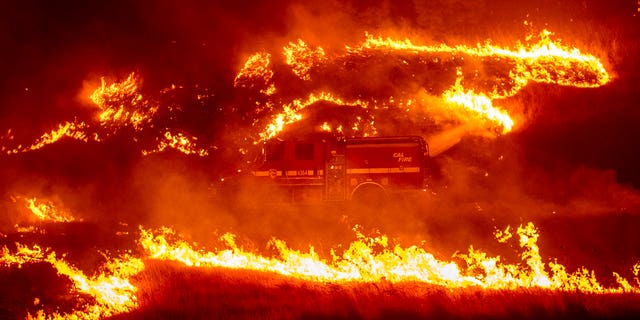 The fire is 0% contained and is currently the No. 1 national priority in the lower 48 states. Burning in the Shasta National Forest, the area is not densely populated but the fire forced the closure of California's I-5, which runs from Tijuana to Vancouver, carrying millions of tons of cargo a day under NAFTA and from China via the ports of Los Angeles and Long Beach.
"The north state has had so many fires, we've had a lot more closures and detours," said truck driver Michael Tunget.
The human-caused fire exploded around noon Wednesday, and immediately overtook the highway. As traffic crawled or stopped, some truckers were forced to abandon their rigs, unable to turn around. Several 18 wheelers were burned to the ground.
Police currently closed a 45-mile stretch near the Oregon border, grounding many trucks – but others chose a 140-mile detour along a winding road.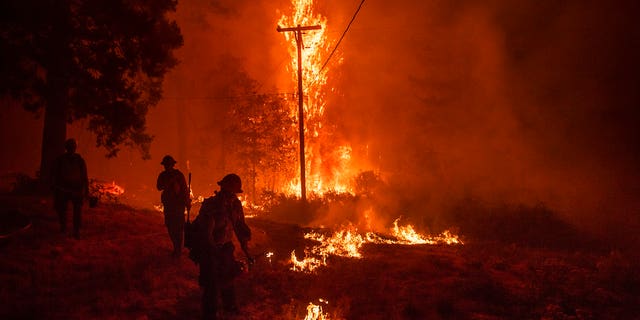 "A two-lane highway," said trucker Jerry Foster. "Curves and hills and trees and it's dark and it's like my wife told me - you're gonna have plenty of company."
This is no brush fire. The fire is burning in steep terrain at 8,000 feet elevation in a thick timber forest that hasn't burned for decades. The U. S. Forest Service and Calfire doubled manpower to 1,200 firefighters and have no idea when they will gain control, but the weather is due to improve this weekend. Officials are optimistic.
"We have direct fire suppression and we have indirect fire suppression, so that's where we're building the lines," said forest service spokesman Mark Thibideu. "Direct would be right next to the fire's edge. One foot in the black, as we say."