California dad recorded using child 'like a baseball bat' in confrontation with woman, police say
Shocking video was recorded last week of a California man swinging a young child "as if to use as a weapon" during an altercation with a woman, Riverside police said.
The encounter was recorded by a nearby resident's security camera, WSVN reported. The individual shown in the images, whom police identified to Fox News as Techhoak Danny Lim, 27, allegedly used the child "almost like a baseball bat."
Lim is the father of the child, who is one-and-a-half years old, WSVN reported.
In the video obtained by Fox 11, a woman in a white T-shirt is spotted moving from behind one outdoor wall to another. In the next clip, the woman is no longer visible when a man carrying a child comes into view. Within moments, the child is seen getting dropped from the man's arms before being scooped up shortly after. The man appears to be talking to someone off screen and runs in their direction after giving a quick once-over to the child.
BLIND MAN IN MINION COSTUME ATTACKED OUTSIDE FLORIDA STORE, POLICE SAY
Another video shot shows both the man and the woman, in which the man appears to throw the small child down before whipping the child up again, propelling it toward the woman. After this, the child appears to be thrown to the ground once more.
Police said authorities were able to track down "the couple and their shared child" after watching the recording. Police said the woman in the video is not the child's biological mother, however she shares custody of the child with Lim. The adult pair is an unwed "couple," police said.
Riverside police said officers "were able to determine the male half committed misdemeanor domestic violence against the female half and swung their child around as if to use as a weapon against the mom, which they determined to be felony child abuse."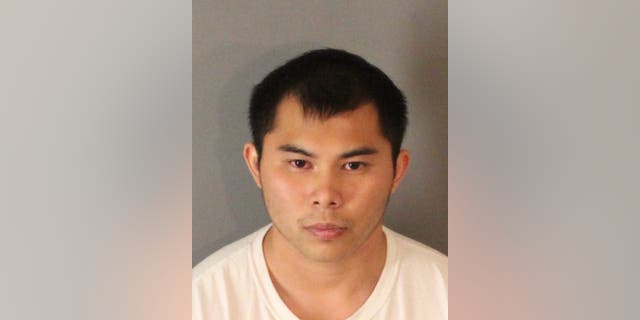 "The child sustained some minor injuries and was treated at a local hospital," police said. Fox 11 reported that the child was given to his biological mother.
CALIFORNIA WOMAN DENIED MANICURE OVER LUPUS SCARS, SHE SAYS: 'I'VE NEVER FELT MORE LIKE A LEPER'
Mike Ogen, the resident who provided police with the recording, told WSVN that the actions displayed were "horrendous."
"The baby being dropped to the floor and used as a weapon, that was horrendous," Ogen told the outlet. "My wife is still shook up over that."
The same day the incident occurred, Lim was booked on misdemeanor domestic violence and felony child abuse, police said. The following day, he was let out on a $50,000 bond, police said.
Attempts by Fox News to reach Lim were unsuccessful.