Bronx raid is biggest gang takedown in NYC history, prosecutor says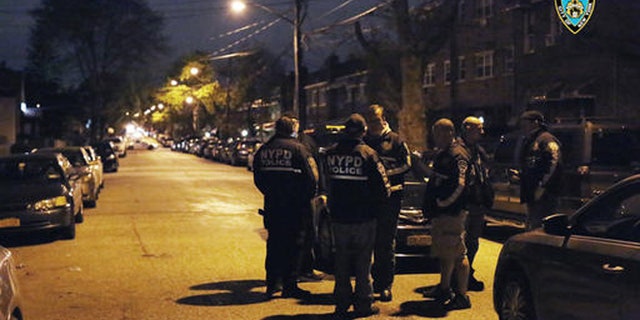 NEWYou can now listen to Fox News articles!
NEW YORK – Law enforcement rescued a Bronx housing project with the biggest takedown in New York City history and now, officials are investigating whether the city's 400,000 public housing residents were being protected in safe conditions as required by federal law, a federal prosecutor announced Wednesday.
U.S. Attorney Preet Bharara told a news conference that nearly 700 New York Police Department officers and federal agents accompanied by helicopters and armored trucks executed pre-dawn raids, taking down two rival drug gangs from top to bottom.
By late afternoon, 88 individuals were in custody and more were sought in what Bharara described as the biggest gang takedown ever in New York City. The arrests stemmed from charges brought against 120 gang members.
"We bring these charges so that all New Yorkers, including those in public housing, can live their lives as they deserve: free of drugs, free of guns and free of gang violence," he said.
The prosecutor said the arrests culminated a 16-month investigation that began when prosecutors and police decided to address a surge in violence around the Eastchester Gardens housing projects, where more than 2,000 people live.
Dozens of shootings, stabbings, beatings, robberies and the murders of a 15-year-old allegedly stabbed to death and a 92-year-old woman killed in her home by a stray bullet could be traced to two gangs: "2Fly YGz" and the "Big Money Bosses," Bharara said.
"These gangs didn't distinguish between rival gang members and law-abiding residents of the community. If you were in the wrong place at the wrong time, you could be shot, stabbed, even killed," he said.
Bharara said some 2Fly gang members stored guns and sold drugs at a playground in the center of the housing project while the other gang primarily operated a few blocks away, terrorizing single-family homes and stores with dozens of shootings, stabbings, beatings and robberies, including several murders and attempted killings.
He said both gangs used social media to promote, protect and grow their organizations, including by boasting about their exploits in YouTube videos.
The prosecutor said his office's civil division was looking at whether the New York City Housing Authority was providing housing that is "decent, safe, sanitary, and in good repair," which is required by the U.S. Department of Housing and Urban Development.
He said whether the housing complexes can provide proper lighting, working elevators, trash-free hallways and lead- and mold-free apartments affects whether "the rule of law reigns or the chaos of a gang takes root."
The raids came eight days after Bharara announced charges against 36 members of two rival drug trafficking gangs operating out of three New York City Housing Authority complexes in East Harlem.
Among those federally charged Wednesday was a drug dealer already serving state prison time for killing a 92-year-old woman with a stray bullet.
The woman, Sadie Mitchell, was watching television in her Bronx home in 2009 when the bullet went through her living room window and hit her in the hip before puncturing her lung.
Two days later, police arrested Jamal Blair, 18, who lived nearby. Investigators said Blair had admitted during questioning that he fired a pistol during a fight between the rival gangs.
During Wednesday's raid, a 21-year-old man who was not part of the investigation but was wanted in a string of knife-point robberies in the Bronx last August involving older women jumped from a building window and later died, police said.