Boyfriend of missing 3-year-old girl's mother arrested in her disappearance
Authorities in North Carolina say they have arrested and charged a suspect in connection with the disappearance of 3-year-old Mariah Woods, a girl whom they believe is probably dead.
Earl Kimrey, 32, the boyfriend of the child's mother, was apprehended Friday, the Onslow County Sheriff's Department and FBI announced early Saturday.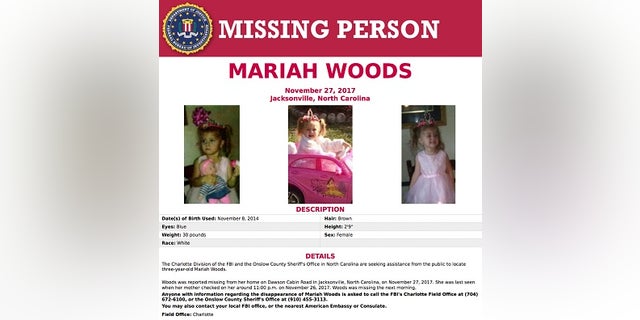 Kimrey was charged with concealing of death, obstruction of justice, second-degree burglary, felony larceny and possession of stolen property. He was being held in the Onslow County Detention Center under a $1 million bond, a news release stated.
Mariah's mother, Kristy Woods, reported the Jacksonville, NC, girl missing Monday morning. She said she last saw her daughter Sunday night when she put her to bed. Kimrey, who lived with Woods, reportedly checked on the infant around midnight.
Mariah's father, Alex Woods, questioned his ex-wife's story. He has been involved in a custody dispute with Kristy Woods and claimed he has not seen his daughter in about a year.
"Someone just walked right up in there, grabbed the 3-year-old out of the bed and she didn't cry, she didn't scream?" Woods told WCTI-TV in New Bern earlier in the week. "Nobody heard anything? Four people in the house, two adults and two kids someone just comes up and snatches the baby and walks out?"
Additional charges may follow as the investigation continues, authorities said. Authorities did not immediately say what led to arrest Kimrey.
Because authorities believe the girl is dead, the focus of the investigation will shift to the recovery of her body, the news release stated.
On Friday morning, hundreds of volunteers organized a search party to look for the girl, ABC 11 reported.
The search was organized in connection with the National Center for Missing & Exploited Children.
The Associated Press contributed to this report.