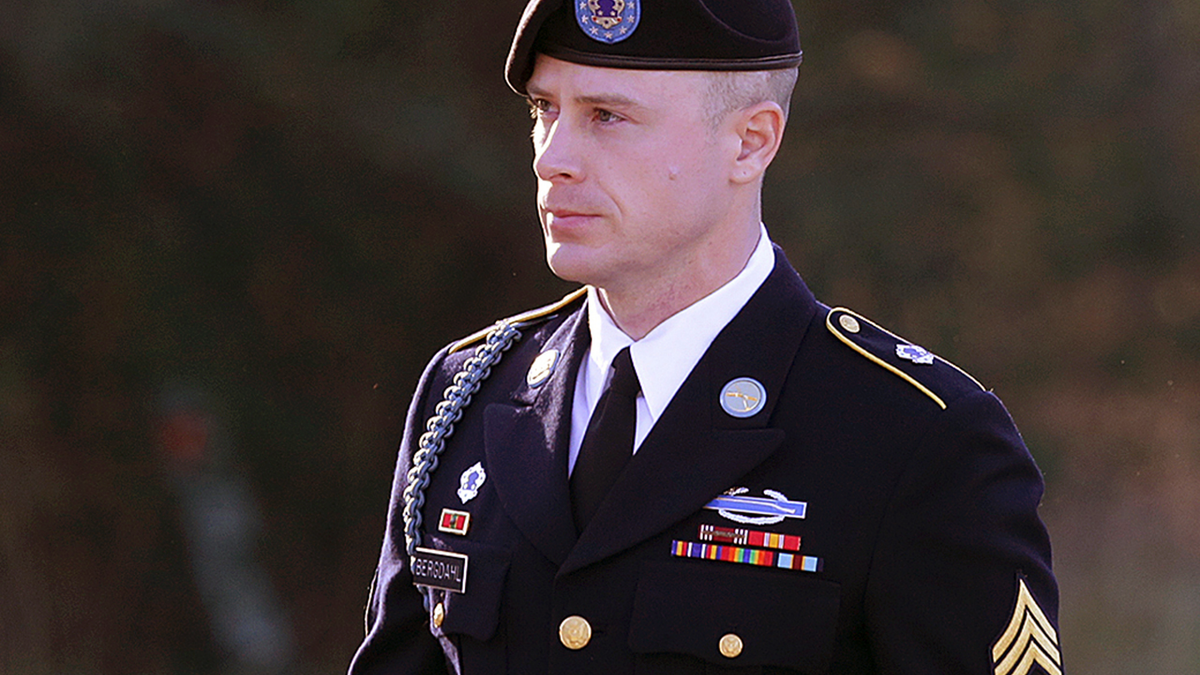 FORT BRAGG, N.C. – A military judge on Thursday began deliberating the punishment for Army Sgt. Bowe Bergdahl after defense attorneys asked for no prison time while prosecutors sought more than a decade behind bars.
Army Col. Jeffery Nance said he planned to spend the afternoon considering evidence and would open court again Friday morning to continue deliberating then. It wasn't clear when he would deliver the sentence.
Bergdahl faces up to life in prison after pleading guilty to desertion and misbehavior before the enemy for walking off his remote post in Afghanistan in 2009. In closing arguments, prosecutors asked for a sentence of 14 years in prison, citing serious wounds to service members who looked for Bergdahl.
"Sgt. Bergdahl does not have a monopoly on suffering as a result of his choices," said Maj. Justin Oshana, a prosecutor. Contrasting Bergdahl to the wounded searchers, he added, "The difference is all the suffering stems from his choice."
But defense attorneys argued Bergdahl already suffered enough confinement during five years of brutal captivity by Taliban allies. They asked the judge to give their client a dishonorable discharge and no prison time. Their argument for leniency also cited harsh campaign-trail criticism by Donald Trump and Bergdahl's mental disorders.
"Justice is not rescuing Sgt. Bergdahl from his Taliban captors ... only to place him in a cell," said Capt. Nina Banks, one of his defense attorneys.
Bergdahl pleaded guilty Oct. 16. The judge has wide discretion on sentencing because Bergdahl didn't strike a deal with prosecutors to limit his punishment. A bad conduct or dishonorable discharge would deprive Bergdahl of most or all his veterans' benefits.
The 31-year-old soldier from Hailey, Idaho, was brought home by President Barack Obama in 2014 in a swap for five Taliban prisoners at Guantanamo Bay. Obama said at the time the U.S. does not leave its service members on the battlefield. Republicans roundly criticized Obama, and Donald Trump went further while campaigning for president, repeatedly calling Bergdahl a traitor who deserved serious punishment.
During the multiday sentencing hearing, Bergdahl himself testified that he was sorry for the wounds suffered by searchers. He also described brutal beatings by his captors, illness brought on by squalid conditions and maddening periods of isolation. A psychiatrist testified that his decision to leave his post was influenced by a schizophrenia-like condition called schizotypal personality disorder that made it hard to understand consequences of his actions, as well as post-traumatic stress disorder brought on partly by a difficult childhood.
On Thursday, prosecutors cited Bergdahl's own words to argue against the idea that his thinking was clouded, displaying on a courtroom monitor quotes from an initial investigation after he returned to the U.S. Bergdahl, who has said he walked off to cause alarm draw attention to problems with his unit, described to an investigating officer how he envisioned the missing soldier alert unfolding.
Bergdahl had said that the call goes "all the way up to Army command, it goes to Air Force, it goes to Marines. ... It goes to every high point and everybody finds out about it."
Banks countered that even though Bergdahl's decision was influenced by mental illness, he now takes responsibility and "stands before this court with a remorseful heart."
___
Follow Drew at www.twitter.com/jonldrew