Boston doctors killed: Suspect worked as concierge at condo complex
The man accused of murdering two engaged doctors in a Boston penthouse condominium on Friday worked as a concierge in the building complex, the district attorney confirmed Monday.
Bampumim Teixeira, who was arraigned Monday afternoon for the murders of Dr. Lina Bolanos, 38, and Dr. Richard Field, 49, was employed by Palladion Services, a security and concierge company. The condo complex where the couple died, used the company's services until February, according to People Magazine who first obtained an email the building's managment sent to residents.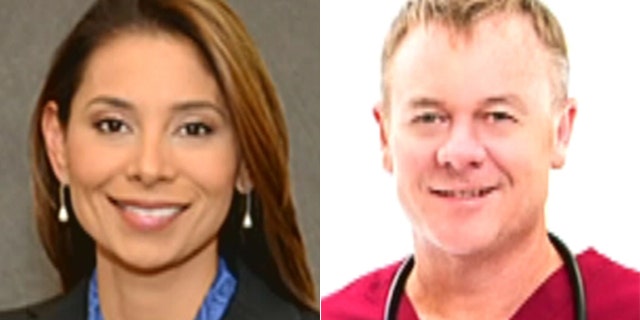 In the email sent Monday night, the managment addressed Teixeira's stint there.
"The suspect … did serve our community as a concierge before leaving the building on his own terms after a few short weeks," the email read.
"Please understand that because of the ongoing investigation, [management is] severely restricted on what we can proactively disclose to the community without police authorization."
KILLER OF TWO BOSTON DOCTORS WROTE REVENGE MESSAGE IN BLOOD
The management said a meeting will be held Wednesday to allow residents to ask investigators questions.
"This is an incredibly difficult time for our entire community. We are all doing the best we can to help our fellow residents and staff through this, while giving the authorities the space they need to do their jobs," the email said.
It's unclear exactly when or how long Teixeira, 30, worked as a concierge in the condo complex, which consists of two separate structures.
Teixeira was recently released from prison after serving a nine-month sentence for robbing two banks -- one in 2014 and the other in 2016, according to police.
Field and Bolanos were found dead in their 11th floor condominium last Friday with her hands bound and throats slit. Field sent a text message to a friend before he died which said there was "a gunman in the house," but when officers arrived, it was too late, prosecutors said.
Cut-up photos of the couple and a message of retribution was written on the wall with blood, The Boston Globe reported. A bag of Bolanos' jewelry was later found at the scene.
VIRGINIA MAN WHO BEHEADED HIS SON SET TO BE RELEASED FROM HOSPITAL
Officers arrested Teixeira after firing a few rounds in a dark hallway. Teixeira did not fire at police. The 30-year-old was taken to Tufts Medical Center with gunshot wounds to his hand, abdomen and leg.
An attorney pleaded not guilty on Teixeira's behalf to two counts of murder on Monday. Teixeira kept his eyes closed through his arraignment, where a judge also ordered he be held without bail.
Officials are still looking for a possible motive in the murder. There was no evidence that Teixeira knew the doctors, "nor is there any evidence to explain why he would attack them so viciously in their own home," Suffolk County District Attorney Daniel Conley said in Monday's news conference.
Field was a doctor at North Shore Pain Management and served as an anesthesiologist and pain management specialist at several other places, while Bolanos was a pediatric anesthesiologist at Massachusetts Eye and Ear. The pair was engaged to be married, Fox 25 Boston reported.
PHOENIX SERIAL SHOOTINGS: SUSPECT ACCUSED OF KILLING NINE PEOPLE IDENTIFIED
Teixeira was born in Guinea-Bissau and raised in Cape Verde, the Boston Globe reported. He moved to the Boston area when he was in his 20s, but started to live in shelters after having a falling-out with his aunt.
Teixeira's ex-girlfriend told the Boston Globe that Teixeira sent her a mysterious text message and called her on April 22. She said her former boyfriend told her that she would never see him again and that he did not plan to live long. Teixeira also told her he would never hurt anyone.
Fox News' Andrew Fone contributed to this report.