Boston authorities search for suspect in deadly shooting outside high school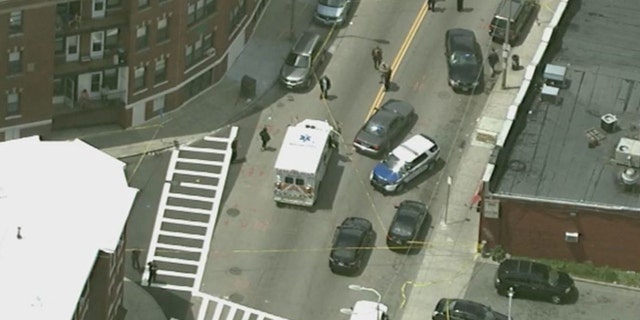 Authorities in Boston are searching for a suspect in a daylight shooting near a high school that left one student dead and three others wounded on Wednesday.
The shooting took place near Jeremiah E. Burke High school in the city's Dorchester neighborhood just after a fire alarm went off in school.
"We don't know whether it was just a fight that spilled out of the school. Unfortunately, as we know now, kids don't fight anymore with their hands. They run and get weapons," Police Commissioner William Evans said in an afternoon news conference.
Students said they heard about six or seven shots ring out and when the gun fire stopped, a 17-year-old student was dead and three others, including two teens and a 67-year-old woman, were wounded.
"When a 17-year-old dies on the street, coming out of school, then we all should be outraged, and shame on anybody who doesn't step up to the plate and help us solve this," Evans said.
According to WFXT-TV, police said there was no indication of a drive-by shooting.
Law enforcement officials have urged the community to help identify whoever was responsible for the shooting.
"One homicide is too many homicides. A mother and parents are going to be notified today that their son has been killed. And I think that we have to do more and we need the entire community to do more," said Mayor Marty Walsh.
Victoria Johnson, a student at the school, said she was friends with the teen who was killed. She told WBZ-TV that she had just said goodbye to him.
"He just gave me a hug and said 'stay safe.' That's what we say every day when we leave school. He gave me a hug and I said the same back to him," Johnson said.
The deceased student nor the wounded victims have been identified.
At a school committee meeting Wednesday night Superintendent Tommy Chang said trauma counselors would be at the school Thursday for students and staff.
"We send our condolences to the family and pray that one day we can see an end to senseless violence in this city and this country," Chang said.
The Associated Press contributed to this report.