'Bomb cyclone' triggers Boston flooding panic, high tides trapping drivers
A "bomb cyclone" wreaking havoc in the Northeast on Thursday unleashed dangerous flooding in Boston and unprecedented high tides along the Massachusetts coast, trapping drivers in cars "floating" through ice-slushed streets covered in mini "icebergs."
High tide started to peak Thursday afternoon, with the height tying the one set during the blizzard of 1978, Boston25 reported. The National Weather Service compared the flooding to that set during that historic blizzard, and said Thursday's storm brought in "some of the worst [to Boston] in recent history."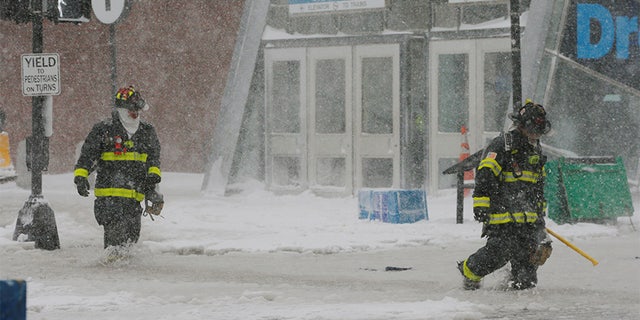 In Boston's Seaport district, Joe Weatherly, a 40-year-old artist from Los Angeles, held his Boston terrier while searching for a seafood restaurant. Part of the district was flooded.
"For someone in California, this is really, really scary. Mind-blowing," he said. "We don't live in a state where things shut down with the weather. I've just never seen this much snow in my life."
Boston Fire Department tweeted photos of flooded streets and firefighters braving hurricane-force winds while rescuing a man trapped in his water.
Boston25 reporter Jason Solowski called it a "big soupy mess" in Boston, while Jacob Long showed his soaked legs after moving through flooded sidewalks.
"Word to the wise. Flooded sidewalks can be deeper than they appear. Went to help a woman get across the street to her car and stepped off a big curb. The water is freeeeeeeeezing. Time to change," Long tweeted.
Quincy police said officers rescued at least 20 people as of Thursday afternoon, warning drivers to stay off the roads by using the hashtag "don't drown, turn around."
In Chatham, several cars were seen "floating" through the street while water rose through a barrier island and reach a condo complex, according to Masslive.com.
The storm knocked out power to more than 5,500 homes and businesses Thursday morning in Provincetown, Massachusetts, on the outermost tip of Cape Cod, which was being lashed with hurricane-force wind gusts, the Eversource electric utility said. Much of that power was restored by early afternoon.
The storm system left at least three people dead in North Carolina from vehicle crashes. Two men died Wednesday night when their truck overturned into a creek in Moore County southwest of the Raleigh-Durham area. Sgt. Michael Baker identified the two killed to The Associated Press as the driver, 57-year-old Michael Alexander Wilson, and a passenger, 73-year-old Jerry David Wilson. Both were from Bear Creek.
Fox News' Travis Fedschun and The Associated Press contributed to this report.