Bicycle left as memorial to honor death of Navy SEAL stolen, police say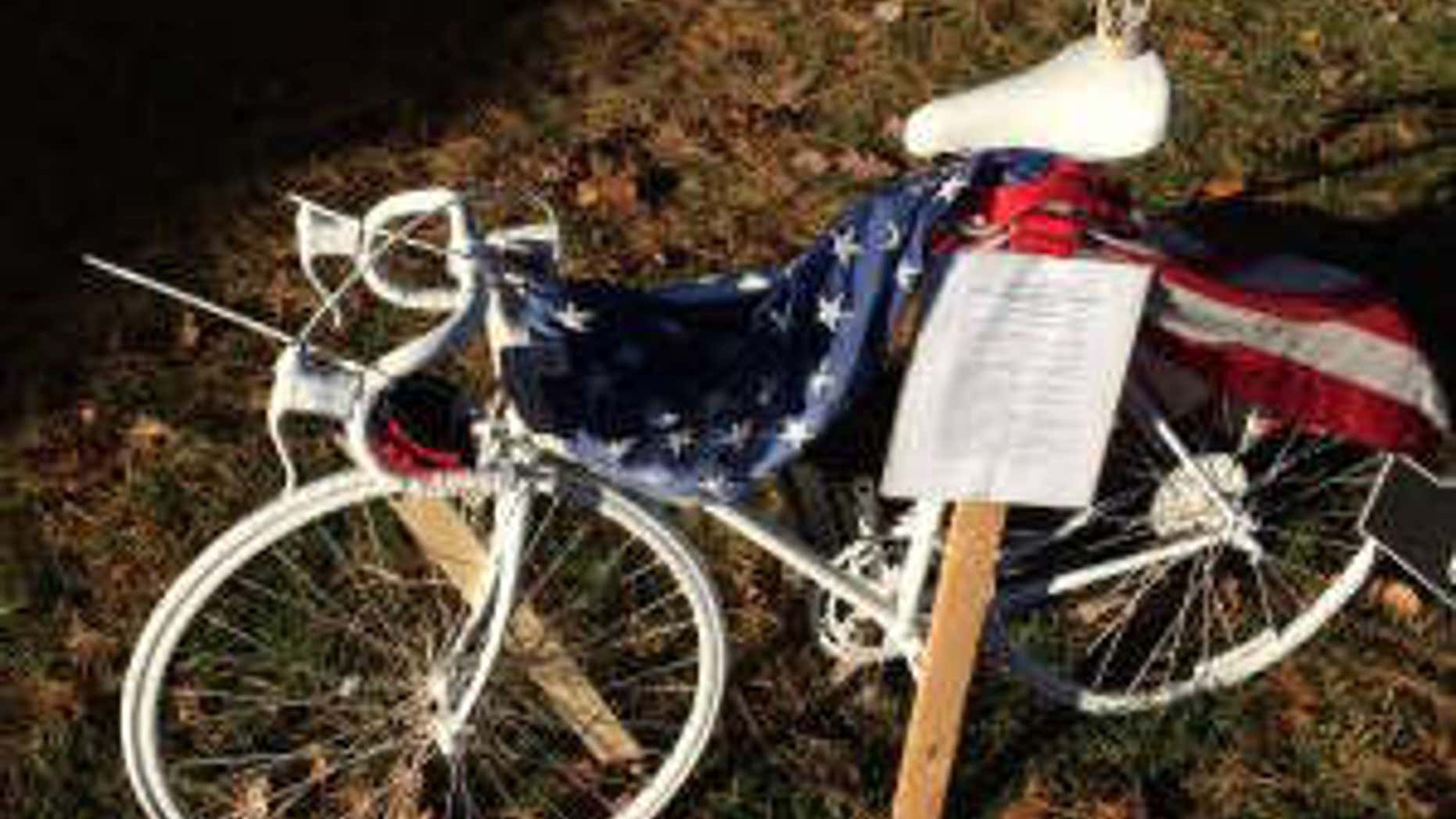 Authorities in Maryland said Friday that a bicycle left as a memorial where a retired U.S. Navy SEAL was struck and killed by a vehicle last year has been stolen.
Montgomery County police said the all-white "Ghost Bike" draped with an American flag had been in Bethesda and is believed to have been stolen sometime between May 26 and May 30.
Fox 5 DC reported that a metal award that was in a zip-lock bag at the memorial site is also missing.
The bicycle was placed on the 6100 block of Massachusetts Avenue where Timothy Holden was struck by a 22-year-old motorist last August. Holden, an avid cyclist, was a highly-decorated Navy SEAL. The 64-year-old man was on his way to meet his daughter when he was hit.
Peter Klosky, a family friend, bought and painted the bicycle after Holden's death and was heartbroken after hearing that it had been stolen.
"Puzzled by the disrespect," Klosky told Fox 5 DC. "Tim was a great guy. He was a great dad. He was a great husband. He was a great Navy SEAL. The message is that symbols are important and we deserve to be able to have a memorial by the side of the road. Tim Holden's death shouldn't just be completely forgotten. The message is that bicyclists are people too."
Fox 5 DC reported that Holden's Ghost Bike wasn't the only one stolen in Montgomery County.
Holden was laid to rest at Arlington National Cemetery. He's survived by his wife, five daughters and three grandchildren.
Police urge anyone with information about the theft of the bicycle to call police at 240-773-6710 or leave an anonymous tip at 240-773-TIPS.