Betty Shelby, Oklahoma officer acquitted in Terence Crutcher shooting, to return to work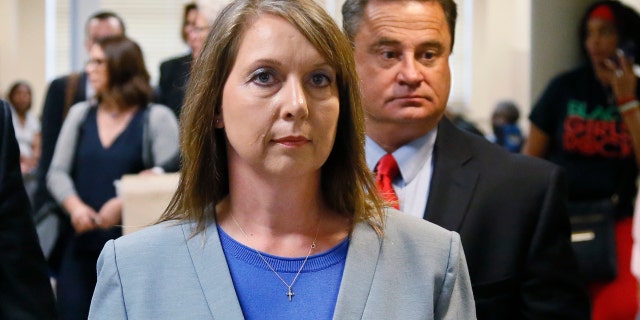 Betty Shelby, the white Oklahoma police officer who was acquitted of killing an unarmed black man, will be allowed to return to work Monday, according to Tulsa Police Chief Chuck Jordan.
"Pursuant to the jury verdict of acquittal in the criminal case of Officer Betty Shelby, she is being returned to duty," the Tulsa Police Department said in a statement provided to Fox News. "She will not be assigned in a patrol capacity."
TERENCE CRUTCHER CASE: OKLAHOMA OFFICER BETTY SHELBY ACQUITTED IN DEADLY SHOOTING
Shelby was put on unpaid leave after being charged with manslaughter for the September 2016 shooting of 40-year-old Terence Crutcher.
After deliberating for more than nine hours on Wednesday, the jury found Shelby not guilty, sparking outrage from Crutcher's family and supporters. Protesters briefly blocked a street outside the courthouse when the verdict was announced, shouting "No justice, no peace" and "Hands up, don't shoot."
Shelby said she shot Crutcher out of fear after he disobeyed commands to lie on the ground and appeared to reach inside his SUV for what she thought was a gun. Prosecutors said the officer overreacted, arguing that Crutcher had his hands in the air and wasn't combative, part of which was confirmed by police video that showed Crutcher walking away from Shelby with his hands above his head.
An autopsy found Crutcher had PCP, a drug that can trigger hallucinations, in his system when he died. His wife said that was irrelevant to the case.
In a post-trial court filing on Friday, jurors said Shelby could have used a less-lethal method to subdue Crutcher and could have saved his life. The jury foreman also noted in a memo that jurors weren't comfortable with the idea Shelby was "blameless" in Crutcher's death.
The Associated Press contributed to this report.