Belgium's 9/11 as Series of Terror Attacks Hit Brussels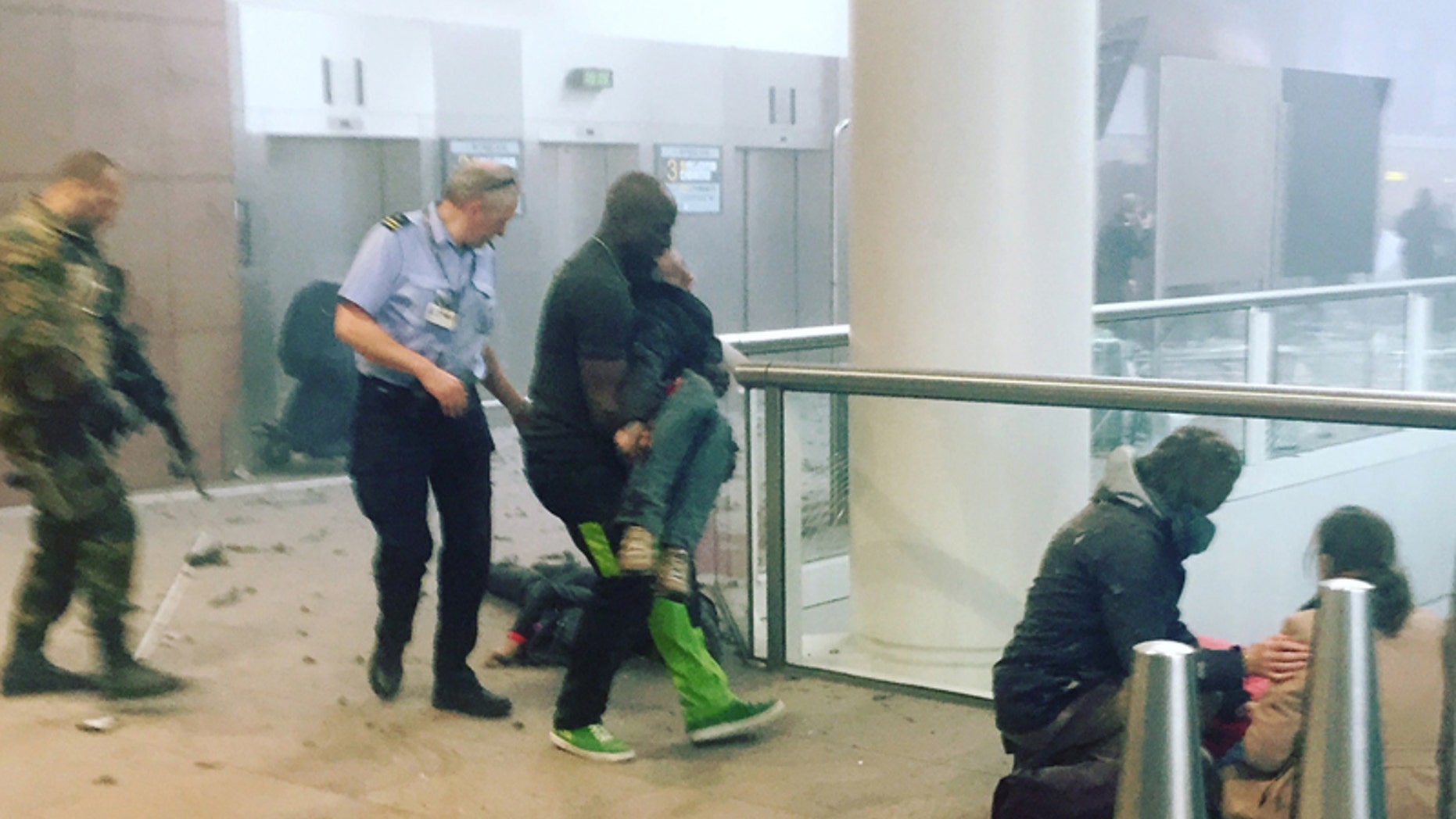 One of the major capitals of Europe shut down at this hour as terror attacks devastate the city. Brussels under attack in coordinated attacks in what is thought to at least in part a reaction to the arrest Friday of one of the ringleaders of the Paris terror attack that left more than 130 dead last November.
At least 34 are dead. At least 100 were injured. The Prime Minister of Belgium called it a "dark day for our nation."
At least one suicide bomber targeted the Brussels airport and at least one metro station.  The death toll may end up being much higher. The American Airlines ticket counter in Brussels was reportedly one of the targets.  .
A transit officials says 20 are dead and 55 injured in the Maelbeek subway station.
The Eiffel Tower will be lit with the colors of the Belgian flag as a mark of solidarity.
The French Prime Minister said this morning that "We are at war. We have been subjected for the last few months in Europe to acts of war."
Brussels has closed the border with France. London and Paris are on high alert.
Here's how Catherine Herridge put it this morning in a note about the threat the United States, "The US threat posture has not changed since the advisory earlier this year, but new and recent intelligence is being re-evaluated.  At that time, no specific and credible plot targeting the US domestically.
The US government official said the threat level in Europe was already high, but the arrest Friday, raised the possibility of accelerating existing plots."
A manhunt continues today in Belgium for a terrorist suspected to helping in the Paris terror attacks. He may be the bomb maker 24-year-old Najim Laachraoui (ehl-al-SHRAH'-wee).
Laachraoui allegedly traveled to Syria in February of 2013 with Salah Abdeslam.
Yesterday Belgium said that Abdeslam told them after he was taken into custody that he was going to restart something from Brussels.
The U.S. justice department says it may not need Apple's help to break the encryption codes on iPhones used in the San Bernardino terror attacks.
Stocks set to open lower today at least in part on the news of the terror attacks in Europe. Airline stocks set to be hit particularly hard.
The White House says the President has been briefed on the terror attacks. He continues his public events on his historic trip to Cuba. We'll be monitoring closely in case he makes comments on the terror attacks in Belgium.
1010EDT -- POTUS delivers speech at Grand Teatro de La Havana Alicia Alonso. Havana, Cuba. HOST TV LIVE / POOL TAPE
1100EDT -- FLOTUS attends dedication ceremony of a gift to Cuba at a public library in Havana, Cuba. First daughters may attend. AGENCY COVER
1055EDT -- Motorcade departs Grand Teatro ert US Embassy in Havana, Cuba.
1115EDT -- Motorcade arrives at US Embassy in Havana, Cuba.
1120EDT -- POTUS meets with Cuban civil society members and makes a brief statement. US embassy, Havana, Cuba. POOL TAPE
1310EDT -- Motorcade departs US Embassy en route Estadio Latinoamericano in Havana, Cuba.
1320EDT -- Motorcade arrives Estadio Latinoamericano in Havana, Cuba. POOL TAPE
1345EDT -- MLB coverage of Tampa Bay Rays exhibition game against the Cuban national team. POTUS & Raul Castro in attendance. Havana, Cuba. POOL TAPE / ESPN OFF-AIR
The other big story today is politics.
Voters in Arizona and Utah head to the polls today. The Democrats will also hold a caucus in Idaho.
Hillary Clinton and Donald Trump have the opportunity to add to their delegate leads. Ted Cruz is leading in recent polls of Utah. If he gets more than 50% of the GOP vote, he will get all the state's delegates.
Last night, Donald Trump spoke at AIPAC in a carefully worded speech that argued for less American intervention around the world. It's clear Mister Trump is attempting to tone down some of his more unscripted comments. Hillary Clinton also spoke at AIPAC yesterday.
The New York Times and CBS News released new polling on Monday showing 46% of Republicans now support Donald Trump. Ted Cruz gets 26% and John Kasich gets 20%. Still, big majorities of Republicans are embarrassed by Donald Trump and view their party as divided.
The same polling has Hillary Clinton ahead of Bernie Sanders by just five points. More than 7 in 10 Democrats believe Hillary Clinton will be the nominee though they appear to be more excited by Sanders.
In head to head matchups, Clinton beats Trump by 10 points. Sanders beats Trump by 15 points. Mister Kasich is the only Republican who beats Clinton in head to head matchups.
Hulk Hogan was awarded an additional $25 million in punitive damages in the defamation case against Gawker.