Bank employees back in fatal shooting aftermath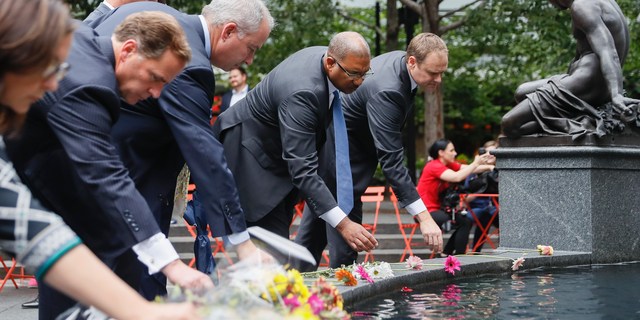 CINCINNATI – The husband of a bank executive who was shot at least 12 times publicly thanked police and emergency medical caregivers Monday for saving her life.
With yellow crime tape still sealing off the lobby entrance, employees returned to work at the downtown high-rise that is Fifth Third Bancorp's headquarters building, where four people, including the gunman, were killed last week. One gunshot victim was released from the hospital Monday, while the other remained hospitalized in fair condition.
The husband of Whitney Austin, a Fifth Third vice president and 37-year-old mother of two young children, offered public praise for police, first responders and hospital staffers.
"We are still unpacking how she survived the initial assault, especially after the shooter returned to fire more rounds into her body," Waller Austin said in a statement. He praised the bravery of the four Cincinnati Police officers — Jennifer Chilton, Gregory Toyeas, Antonio Etter, and Eric Kaminsky — who stopped the gunman.
"My wife is alive today because you refused to allow the shooter to continue his rampage — you are my heroes, and my children will know that they will have their mother and hold her, too, because of YOUR actions," he wrote. He said another officer, Al Staples, carried her to safety, comforting her and helping her call him before she was taken to the hospital.
He also thanked Fifth Third and co-workers for all their support and the community for prayers.
"I am not a religious man, and often question my faith or what God is, but I believe in prayer and 'miracle' is the only word I know that could accurately describe what happened to Whitney," Austin wrote. "We are blessed. Thank you so much ... "
A Cincinnati hospital said one of two people who survived gunshot wounds was released Monday afternoon.
University of Cincinnati Medical Center wouldn't identify the released patient, citing privacy restrictions. However, Austin's husband said earlier in the day that he had met with Fifth Third contractor Brian Sarver and his family and that Sarver was expected to be ready to go home soon.
Whitney Austin had arrived last week in critical condition. Waller Austin said she still has "a long road ahead in her recovery."
Some downtown workers took breaks to donate blood to the Hoxworth Blood Center of University of Cincinnati. The center regularly holds blood drives at the Fountain Square area that includes the building, but brought a second bus and extra staffers to respond to unusually strong response.
"It's such a cathartic thing for people to do," said Jim Tinker, a recruitment director for Hoxworth. He said supervisors in several nearby businesses were giving employees time off to give blood.
Some Fifth Third employees were signing up to donate, but they declined to comment.
Stacie Haas, a spokeswoman for the Cincinnati-based regional bank, said counselors were available for employees. She said Fifth Third has some 1,900 employees and contractors in the 30-story building, which hosts other businesses including food shops.
A Fifth Third finance manager and two contractors were killed Thursday .
Omar Enrique Santa Perez, 29, was shooting randomly in the lobby until quick-responding police shot him. Police said he had some 250 rounds of ammunition for his legally purchased 9 mm handgun.
Austin said he and his wife, a native of Louisville, Kentucky, are committed to doing what they can to "protect innocent folks from senseless gun violence."
Police said Santa Perez never worked at the building and searches of his apartment and vehicle haven't unveiled a motive.
"Nothing is really standing out," Cincinnati Police Lt. Steve Saunders said Monday. He said investigators "have a lot of things" remaining to study.
"Cincy Strong" messages and bouquets of flowers were placed along the square's namesake fountain. The square often hosts a variety of community gatherings including concerts and food trucks.
Melissa and Ernie Bornstein, Los Angeles Dodgers fans from South Lake Tahoe, California, were in town to see baseball's Dodgers play the Cincinnati Reds. They were drawn to the fountain.
"We thought this has to be where what we heard about happened," she said. "It's tragic."
___
Follow Dan Sewell at http://www.twitter.com/dansewell