Authorities Say Mojave Desert Replacement Memorial Cross Must Come Down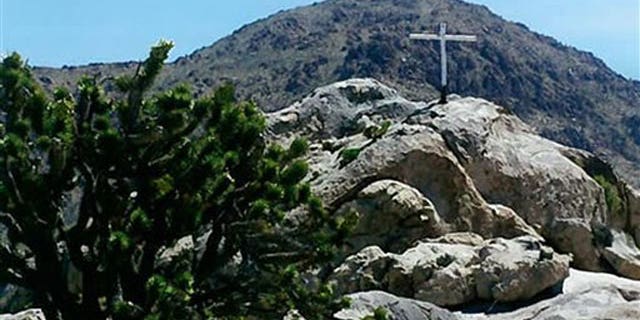 NEWYou can now listen to Fox News articles!
Authorities say a Mojave Desert war memorial cross that replaced one that was stolen is illegal and must come down.
Linda Slater, a spokeswoman with the Mojave National Preserve, says a maintenance worker spotted the 7½-foot replica cross made of metal pipes on Thursday in a federal park.
The original cross was stolen more than a week ago. It had been the subject of a lawsuit arguing that the Christian symbol didn't belong on public land.
The U.S. Supreme Court temporarily allowed the old cross to stand, but Slater says the new cross isn't covered by the ruling and will be taken down.
The site's caretakers constructed a replacement cross on Saturday. Wanda Sandoz, who has watched over the site with her husband Henry since 1984, said the one put in place Wednesday night is not the one welded by her husband.
Sandoz said the cross that went up overnight is white, but their replica has not been painted yet -- indicating that the replacement could be the original stolen cross or someone else's replica.
"I'm curious as to how they got it up there," Sandoz said, explaining that erecting the cement-filled pipes was a rigorous and difficult process — and would be much harder by the light of a quarter moon.
"It's not like you can dig a hole and put a cross in there. It's solid rock up there," she said.
Thieves used bolt cutters to rip through the inch-thick bolts that had kept the cross in place since 1984. That memorial replaced a wooden cross that was put up in the Mojave Desert in 1934 by veterans of World War I to honor troops who died in battle.
Sandoz said her husband was helped by about five or six ranchers when he put up the metal cross in 1984. "One man couldn't have taken it down, and one man couldn't put it back up," she said.
The Park Service told FoxNews.com on Wednesday that it opposed replacing the stolen cross as long as litigation continues.
A $125,000 reward has been offered for information leading to the arrest of the thieves who took the memorial.
FoxNews.com's Joe Abrams and the Associated Press contributed to this report.