Atlanta I-85 bridge destroyed in fire expected to open in June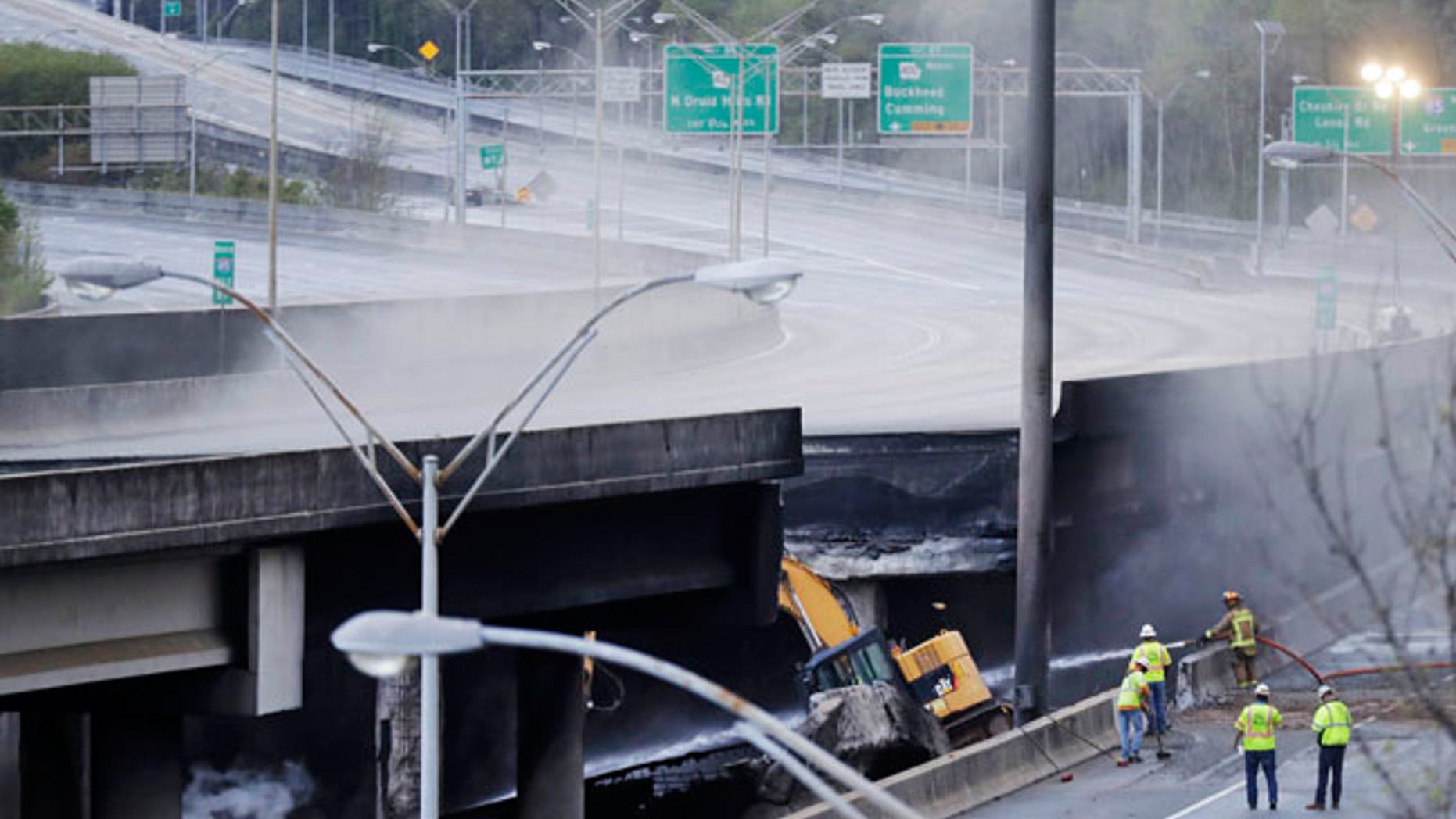 The portion of Atlanta's Interstate 85 that was destroyed in a fire last week could be rebuilt and open as early as mid-June, officials from the Georgia Department of Transportation said.
"It is our expectation that the bridge will be reopened in fewer than 10 weeks, or say June 15," GDOT's Director of Construction Marc Mastronardi said in a news conference Tuesday morning.
NH HOUSE EXPLOSION WAS NO ACCIDENT, RESCUERS SAY
Mastronardi said crews have been working through the weekend to clear the debris and that demolition is already nearly 85 percent complete.
Though DOT Commissioner Russell McMurray noted that the deadline seems "very aggressive," he insisted that mid-June is an "attainable" goal.
CALIFORNIA PILOT ACCUSED OF FLYING UNDER THE INFLUENCE
Nearly 700 feet of the interstate collapsed last Thursday when the fire erupted under the overpass.
Three people were arrested in connection with the fire. Basil Eleby, 39, was charged on Saturday with criminal damage to property and arson, and Sophia Broner and Barry Thomas were charged with criminal tresspassing. The arrest warrant, which cites suspects, states that Eleby had talked about smoking crack cocaine when he set a chair on top of a shopping cart ablaze.
The collapse of the busy highway snarled traffic in both directions indefinitely, forcing people to find alternative travel routes. Local and state officials are looking for a quick rebuild to prevent a commuting catastrophe.
McMurry said Monday the DOT "will be looking at all things to make sure that we never have a catastrophic event like this again."
The Associated Press contributed to this report.