At least 20 reportedly injured after tour bus overturns in southern Indiana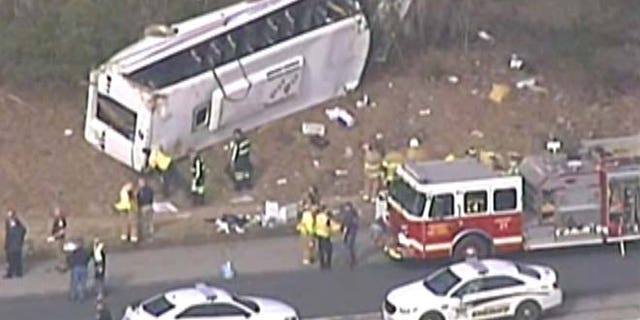 At least 20 people -- including children -- reportedly were injured Thursday morning when a tour bus carrying members of a college bowling team overturned along Interstate 65 in southern Indiana.
Indiana State Police confirmed to local television station RTV6 that at least 20 people were hurt in the crash.
Scottie Maples of the Clark County Sheriff's Department told WDRB-TV the accident occurred on southbound on Interstate 65 just north of Henryville, Ind.
Indiana Tech, based in Fort Wayne, Ind., said the bus was carrying 16 members of the university's men's and women's bowling teams, along with their coaches, who were traveling to a sectional tournament in Smyrna, Tenn., according to WDRB-TV.
A Clark County sheriff's office dispatcher said six medical choppers have been called to the scene, about 20 miles north of Louisville, Ky. Indiana State Police Trooper Mary Sanchez told the News and Tribune that ground ambulances also were on the scene.
The bus belongs to Ohio-based Excursions Trailways. The company told the News and Tribune that it is still in the process of gathering information about the crash and does not yet have anything to disclose.
Video shows the white bus on its side in a grassy area off the highway with debris strewn about.
"Our hearts go out to the Hoosiers impacted by this morning's bus crash in southern Indiana. The State of Indiana is coordinating a multi-agency response, with Indiana State Police Superintendent Doug Carter traveling now to the area," Indiana Gov. Mike Pence said in a statement. "As law enforcement and emergency personnel respond to this situation, we urge all Hoosiers to hold these men and women in their thoughts and prayers."
The Associated Press contributed to this report.