At least 10 injured after construction crane collapses in NYC
At least 10 people were injured when a construction crane dropped a massive heating and air-conditioning unit nearly 30 stories at a Midtown Manhattan building Sunday, officials and witnesses said.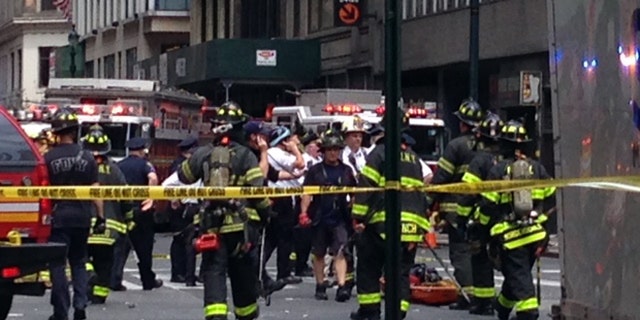 Workers were attempting to lift the unit into one of the building's control rooms on one of the top floors at the under-construction site when the accident occurred, officials and witnesses said.
The massive load came crashing down, striking the side of the building multiple times as it plummeted, before landing in the middle of Madison Avenue near East 38th Street just before 11 a.m., officials and witnesses said.
"It sounded like a freight train," said Milo Avidane, who watched from his apartment across the street as a cloud of smoke rose from the accident site.
"They were rigging the HVAC unit through a hole on the top floor, and and it never made it into the building," Avidane said. "Either the cables gave out or the something… and it landed smack in the middle of Madison — right in front of the restaurant on the bottom floor.