Arrest in execution-style killing of Chicago boy, 9
Chicago police announced Friday the arrest of a known gang member in the "heinous" execution-style murder of a 9-year-old boy, a crime that shocked a city familiar with senseless violence.
Police Superintendent Garry McCarthy said Tyshawn Lee was lured into a south side alley and killed earlier this month to get back at his father, a member of a rival gang.
"Tyshawn Lee was failed on many levels but at the end of the day our detectives were unrelenting in the pursuit of justice," McCarthy said at a news conference.
Corey Morgan, 27, was arrested on a first degree murder charge, he told reporters.
McCarthy said Morgan is a "documented" gang member, and a convicted felon with a history of violence.
Police said Tyshawn was killed by Morgan and two gang cohorts.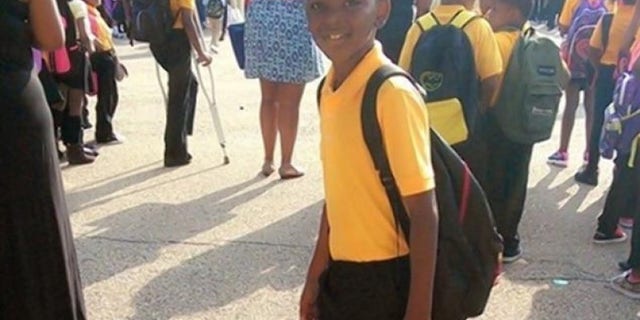 They said they are also looking for Kevin Edwards and the other, who was not identified, was in custody on an unrelated charge.
"Who pulled the trigger is being worked on," McCarthy said.
He said detectives were able to crack the case in part with help from the community, but not Tyshawn's father, Pierre Stokes.
"Not at all. Not at all," the top cop said when asked about Stoke's helpfulness.
Police said the three suspects spoke to Tyshawn in a park and then walked him off into the alley.
"It's truly an act of barbarism," said Chief of Detectives Dean Andrews. "It's a 9-year-old who was targeted and executed."
The gang Morgan the other two suspects belonged to was not identified.
"That gang just signed its own death warrant," McCarthy said.
Morgan was "a person of interest" in the case days after the killing, Fox 32 reported.
On Nov. 17 he was charged with an unrelated crime, possession of a firearm by a felon.
Morgan was ordered held on $1 million bond, but then released when he was able to post $100,000 in cash.
The station reported that Tyshawn was shot in the right temple and the bullet went through his left temple, according to a Nov. 3 autopsy report reviewed by the Chicago Sun Times.