Arizona woman sentenced to death after locking young cousin in box, killing her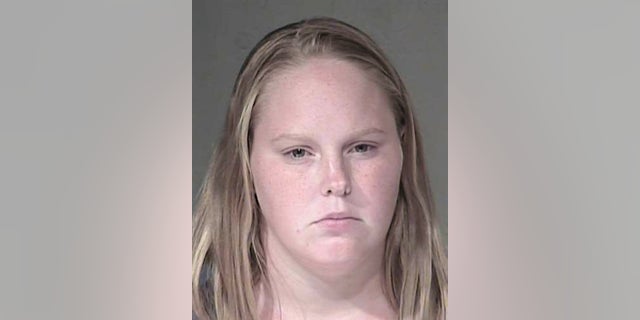 A Phoenix woman was sentenced to death Monday after she punished her 10-year-old cousin for stealing an ice pop by locking the young girl in a box where she suffocated and died -- the culmination of years of abuse in which the girl was forced to eat feces and endured countless beatings.
Sammantha Allen, 29, was convicted in June of first-degree murder and four counts of child abuse in the July 12, 2011 killing of Ame Deal.
Allen became emotional when the sentence was read, but the jury stated the woman's lack of remorse helped them reach their decision.
"Lack of remorse was the biggest thing that played into it for us, that we didn't see that from Sammantha throughout the whole process," Anne Schadd, a juror, told AZ Family.
ARIZONA MAN STRANDED IN DESERT FOR 3 DAYS WITH ONLY WATER AND BEER
Allen will become the 55th woman condemned to die nationwide. She joins two other women in the state who are also sentenced to die.
Allen and her husband were responsible for making Ame get into the box, where she was left and found dead six or seven hours later, authorities said.
The girl's death was the culmination of a history of abuse that a handful of relatives heaped on her, authorities said.
Ame was forced to eat dog feces, crush aluminum cans barefoot, consume hot sauce and get in the storage box on other occasions. She was also kicked in the face, beaten with a wooden paddle and forcibly dunked after being thrown in a cold swimming pool, investigators said.
"The years of abuse that she suffered and it was probably happenstance that this result didn't occur before it did," Ann Opseth, a juror, told AZ Family.
MANHUNT FOR OHIO PRISONER ENDS AFTER SUSPECT'S BODY FOUND IN CRAWLSPACE AT PARENT'S HOME
"No one knew this was happening to Ame until she died," Scaad said. "And I feel that there are possibly a lot more children out there that are not having a good home life that we don't know about. And that's one of the biggest things I took away from this."
Initially, the adults at the residence claimed Ame was playing hide-and-seek and was not found until hours later. Allen and her husband, John, confessed to locking the child in the storage box and padlocking it.
Allen's husband, John Allen, 29, is scheduled to go on trial on Oct. 9. He has pleaded not guilty to first-degree murder and child abuse and also faces the death penalty.
Sammantha Allen's mother, Cynthia Stoltzmann, who was also Ame's legal guardian, is serving a 24-year prison sentence for a child abuse conviction.
Child welfare authorities in Arizona said they didn't receive any reports of abuse before her death. But child welfare reports from Utah, where the family lived before moving to Phoenix, listed Ame as an abused child, police said.
The verdict comes after executions in Arizona were put on hold following the 2014 death of a prisoner who was given 15 doses of a two-drug combination before he died in what his attorney called a botched execution.
But the state is now able to resume executions after a lawsuit that challenged the way Arizona carried out the death penalty was settled earlier this summer. No executions are scheduled.
The Associated Press contributed to this report.