Amtrak high-speed train cars separate while traveling in Maryland
A high-speed Amtrak train bound for Boston had two of its cars separate early Tuesday while traveling through Maryland, the latest in a series of accidents affecting the passenger rail carrier.
The incident took place at 6:40 a.m. as Acela Express train 2150 was traveling from Washington D.C. to Boston and experienced a "mechanical issue," the railroad said in a statement to Fox News.
Two cars on the train, which was carrying 52 passengers, separated, but there were no reported injuries. Passengers from the Acela train were transferred over to another train to continue their travel.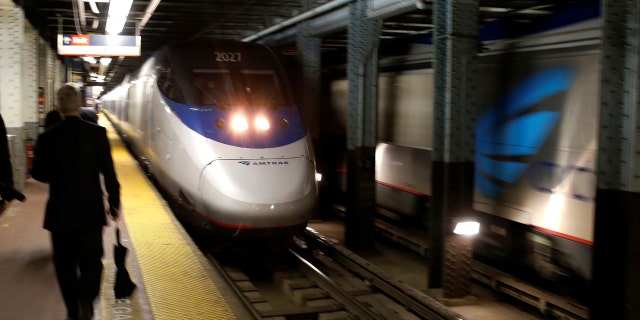 "We are currently investigating the cause of the car separation, inspecting every Acela trainset, and taking any necessary actions to prevent a reoccurrence," Amtrak said in a statement.
A picture of the incident obtained exclusively by the New York Post shows the connector between the two train cars broken and separated, with a sharp drop to the tracks below.
A source told the newspaper the train was traveling at about 125 mph at the time of the incident. Only the air hoses remained connected between the two cars, which both had passengers in them, the source told The Post.
AMTRAK'S DEADLIEST CRASHES IN RECENT YEARS
"Someone could have been walking through the train when that happened and fell to their death," the source told The Post.
The Acela Express is Amtrak's premier high-speed train that travels at speeds up to 150 mph, and offers "hourly service" between Washington D.C. and Boston.
Andrew Exum, a passenger on the train, tweeted "Two cars separated, and sparks and smoke went everywhere."
Exum also posted pictures from inside the train with no power, and getting off to get on another train to continue his journey.
The incident in Maryland happened just two days after an Amtrak train collided with a parked CSX freight train, killing two Amtrak employees.
Last Thursday, one person in a truck died when an Amtrak train carrying Republican members of Congress struck the vehicle at a crossing. Two other people in the vehicle were severely injured.
Fox News' Shira Bush contributed to this report.