Alaska man discovers lynx kittens: see photos
An Alaska man heard what he said sounded "like something scrambling on the deck" -- only to find several lynx kittens on his porch, The Dodo reports.
"Coming out of my slumber, I thought, 'What the heck is that?' So I put on my bathrobe and slowly eased back the curtain," Tim Newton told the website. "And right there, two feet away, was a lynx kitten. He was sitting there watching his siblings race by."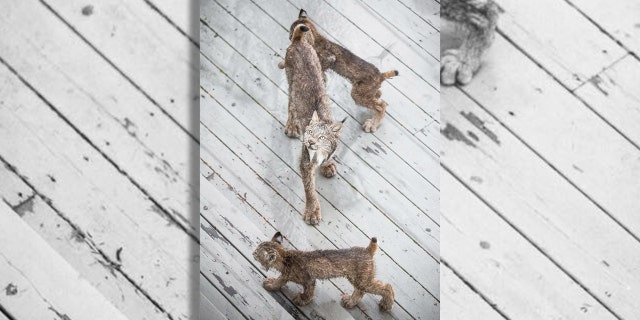 Three to four kittens were on the deck before they left, The Dodo reported. All seven kittens and their mother later were on the deck, the report said.
"She has her hands full," Newton said. "I've concluded that lynx must spend 1 one percent of their waking lives chasing rabbits, and 99 percent chasing their kids. What a handful!"
Newton took photographs of the animals, which are available on his Facebook and Fine Art America sites.