A Mother's Conversion Benefits Many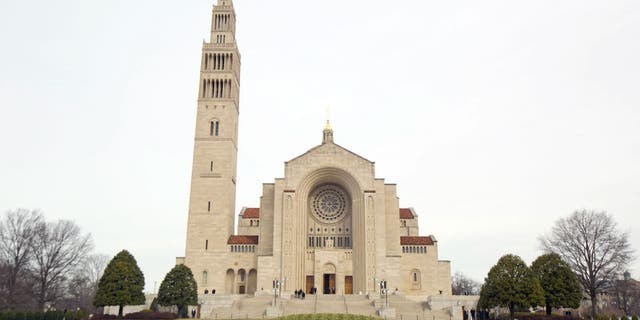 NEWYou can now listen to Fox News articles!
Don't judge a book by its cover.
I'd only met the thin, pretty woman sitting next to me a couple of hours earlier. She was wearing a colorful maxi skirt and cowboy boots, fashionable sunglasses, and gorgeous earrings. She had very short hair under her white lace chapel veil and tattoos on her arms and shoulders.
She and I were wearing matching white t-shirts with the Arabic letter "Noon" or "ن" in red printed on them: N for Nazarene — Jesus the Nazarene — the symbol designating Christians in the Middle East.
We were waiting on a bench on the lower level of the Basilica of the National Shrine of the Immaculate Conception in Washington, D.C., for confession before Mass.
Then, after Mass, we were heading to the fence of the White House to meet up with a few friends. We would then pray together for an end to the systemic violence against Christians and other religious minorities in the Middle East.
So began my friendship with Brice Griffin two summers ago. Since then, her faith and fortitude have never failed to inspire me and challenge me to be a better person.
Griffin was baptized in the Episcopal Church, but despite her father's efforts, she did not hold fast to any faith. Like many people, her adolescence included rebellion, which led to sex, drugs, and rock n' roll. A full-time job at Tower Records seemed to be the natural path for her, and this opportunity put her collegiate studies on hold.
It also brought free tickets to the legendary 9:30 Club in Washington, D.C., seven days a week. The rock life was so appealing that when she became pregnant, she didn't hesitate when her boyfriend — a professional guitarist — suggested an abortion. She was certain this would earn her a permanent bunk on the tour bus, but it only brought her abandonment, heartache, and depression.
It took years for her to climb out of the emotional aftermath of that abortion and the subsequent break-up with the guitarist, but climb she did. Brice Griffin straightened out her life and found love, but never followed a religion until after she got married.
She told me, "The Eucharist is what brought me to the Catholic Church — also, my husband. Mike was raised Catholic and while he always said he wouldn't pressure me to convert, he insisted our children would be raised Catholic as well. So we attended Mass on most Sundays as a family — admittedly there were Sundays when we would skip it — and I would sit tight during Communion."
"Then one day it hit me," she continued. "If my husband believes that is the Body and Blood of Jesus Christ, and I'm going to be teaching that to my children, I need to make a change! And that was it. I went through RCIA [the Rite of Christian Initiation of Adults] and was confirmed on March 22, 2008. And my conversion process has caused an enormous reversion for my husband. We haven't missed a Sunday Mass since then, and we go to confession as a family once a month."
All four of their children (ages 15, 13, 11, and 9) are homeschooled and they attend Mass daily. Griffin also puts her faith in action in pro-life activism and advocacy: She shares her story of regret after her abortion in her early 20s as a speaker with the Silent No More Awareness Campaign; she volunteers with Priests for Life and Stand True: Christ Centered Pro-Life; she traveled to Ghana to help train sidewalk counselors and lay the groundwork to help the local community start a pregnancy resource center; and she is the founder and director of Stanton Healthcare/Charlotte Center for Women in Charlotte, N.C.
Stanton Charlotte's mission is "to provide women facing an unplanned pregnancy with life-affirming options in an environment that promotes physical, emotional, and mental well-being, empowering them with confidence and resources at no cost to them." And Griffin's mission is to help them all — the woman facing an unplanned pregnancy, the woman suffering after an abortion, the families seeking direction, resources, and encouragement.
Bryan Kemper, youth outreach director of Priests for Life and founder of Stand True, said, "Brice Griffin is the perfect example of the total grace and redemption that we have in Christ. Her willingness to share her story and what God did for her and her family has inspired me in my work to end abortion and help women in crisis."
"I know that having the Griffin family in my life," he added, "has made me strive to be a better person and father."
Dr. Matthew Harrison is one of the pioneers of the Abortion Pill Reversal protocol, a medical intervention designed to reverse the effects of the chemical abortion pill RU-486. Dr. Harrison told me that Griffin "brings care and compassion to the pro-life movement. She is a sympathetic warrior for the pre-born and at the same time, an empathetic advocate for the post-abortive."
She spends her time immersed in her faith, her family, her friends — I am fortunate to be counted in this number! She advocates for the helpless, offers practical support and resources to mothers and families in need, and travels around the United States to speak to youth. She engages, educates, inspires, and challenges them to let God use them for His will on earth.
Brice Griffin's remarkable conversion and the witness of her life and her work — her faith in action — are beautiful reminders that one doesn't have to be a priest or a pastor, a sister or a saint, to follow God's call and make a difference in this world.
Jewels Green is a mother, writer, public speaker and advocate for the right to life from conception to natural death. She lives in a suburb of Philadelphia.