76 illegal immigrants found inside a tractor-trailer in Texas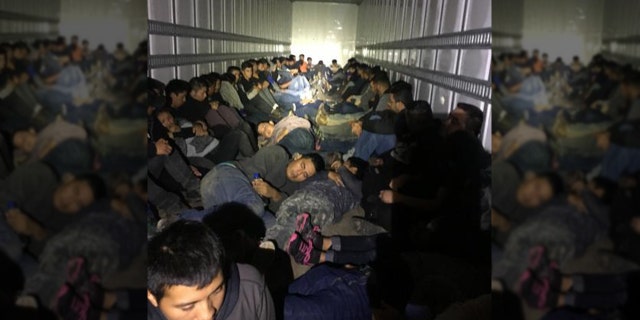 Dozens of illegal immigrants were discovered stashed away in the back of a tractor-trailer in Texas last week, according to authorities.
The semi transporting 76 immigrants was stopped on Friday at a checkpoint on U.S. 83, north of Laredo in South Texas, U.S. Border patrol said in a statement on Monday. The driver of the vehicle, who authorities say is now in custody, was questioned about his immigration status and it was determined he is a U.S. citizen.
Authorities found the immigrants inside the trailer while the rig underwent further inspection. The vehicle has been seized.
The immigrants are from Mexico, Honduras, El Salvador and Guatemala and they are all in good health, according to the Border Patrol. Thirteen of them were unaccompanied children.
Laredo Sector Assistant Chief Patrol Agent Gabriel Acosta called the incident a "blatant disregard for human life" that "will not be tolerated."
"These criminal organizations view these individuals as mere commodities without regard for their safety," Acosta said in a statement. "The blatant disregard for human life will not be tolerated. We will continue to work with our law enforcement partners to disrupt and dismantle these organizations and prosecute those responsible."
The identity of the driver and other details of the case are being withheld, according to U.S. Immigration and Customs Enforcement spokeswoman Nina Pruneda.
The Associated Press contributed to this report.