5 nursing students killed in Georgia interstate wreck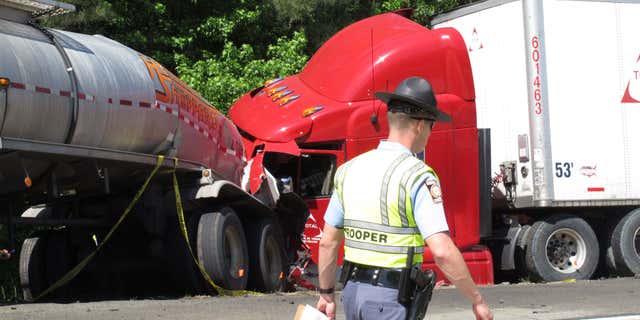 Five nursing students died Wednesday in a chain-reaction crash that began when a tractor-trailer failed to slow down and smashed into stop-and-go traffic, Georgia authorities said.
The tractor-trailer plowed into an SUV and then rolled over a small passenger car that burst into flames, Sgt. 1st Class Chris Nease of the Georgia State Patrol said. The big truck came to a halt after ramming the back of a tanker. Those killed were travelling on Interstate 16 near Savannah in two passenger vehicles. The cars were mangled by the crash.
All five of the victims were nursing students at Georgia Southern University. St. Joseph's/Candler Health System said the students were commuting to the hospital for their last clinical training of the year.
"The loss of any student, especially in a tragic way, is particularly painful," Brooks Keel, president of Georgia Southern, said in a statement. "Losing five students is almost incomprehensible."
The Georgia State Patrol said three people were also injured and seven vehicles were damaged.
The crash happened at about 6 a.m. in Bryan County. Traffic was heavy during that time because of an unrelated accident about a mile ahead that forced motorists to slow, Nease said.
"Traffic was sort of stop-and-go when the tractor-trailer came along and struck one of the passenger vehicles in the rear," Nease said. "We're still trying to piece it all together. It's a terrible day."
The university said the students were all Georgia residents in their junior year — Emily E. Clark, 20, of Powder Springs, Morgan J. Bass, 20, of Leesburg, Abbie L. Deloach, 21, of Savannah, Catherine M. Pittman, 21, of Alpharetta and Caitlyn N. Baggett, 21, of Millen.
"You could tell they really loved what they did," Sherry Danello, the hospital's chief nursing officer, said in a statement. "They didn't just go through the task, they really connected to the patients."
The crash brought traffic to a standstill for more than six hours as road crews and tow trucks cleared the wreckage. Troopers kept a 6-mile stretch of the highway closed long after cars began moving again.
"There was no fog or smoke. It was clear as a bell," said Sgt. Chris Rodewolt of the State Patrol.
The Associated Press contributed to this report.