5.4 Magnitude Earthquake Hits North of San Diego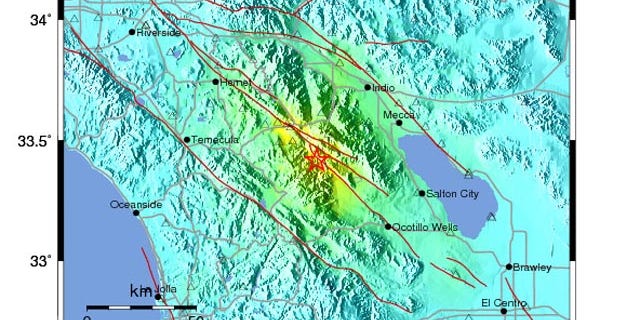 NEWYou can now listen to Fox News articles!
A moderate earthquake jolted Southern California on Wednesday, rattling buildings in downtown Los Angeles, toppling wine bottles at desert resorts and briefly halting rides at Disneyland.
There were no reports of immediate injuries or major damage, although residents across a wide swath of Southern California were spooked by the force of the magnitude-5.4 quake.
It struck at 4:53 p.m. and was centered 28 miles south of Palm Springs, or about 130 miles east of Los Angeles, the U.S. Geological Survey said.
Laura Anderson, a manager at The Palms at Indian Head Hotel, said she ran outside when the shaking started and was surprised to learn the temblor's magnitude wasn't higher.
"It was quite a shaker, this one was a little scarier," she said. "We were heading for the door. We're kind of waiting out here for a big one to hit. It was enough to knock over some wine bottles and some pictures fell off the wall."
The quake was initially reported as a magnitude-5.9 but later downgraded to 5.4. Sheriff's departments in Los Angeles, Riverside, Orange and San Diego counties have no immediate reports of major damage or injuries.
Police Lt. John Booth said there were no reports of serious damage or injuries in Palm Springs, a desert city of about 43,000, but the phone was ringing off the hook and many residents were shaken up.
The quake is related to the powerful Easter Day temblor that hit an isolated area near the U.S.-Mexico border, but it is not an aftershock. Seismologist Kate Hutton of the California Institute of Technology said strain from the April quake transferred up to a different fault zone and triggered the quake.
Even though the quake did not do significant damage, it sure put a scare into millions of people in Southern California.
Suzi Brown, a spokeswoman at Disneyland, said all rides were being inspected before guests would be allowed back on after the earthquake, in line with resort policy after any seismic activity, she said.
"The rides come back on as they're inspected, so some within a matter of minutes, some a little longer depending on the attraction," she said.
Caltech seismic analyst Anthony Guarino said preliminary information indicates that the quake was on the San Jacinto fault, one of two that was stressed by the 7.2-magnitude quake near the U.S.-Mexico border on Easter.
"It was a strong one. It definitely shook the newsroom for a good 15 seconds," said Renee Schiavone, a new media producer at KPSP-TV in Palm Springs. "It knocked things off shelves, knocked us on our butts and underneath our desks. We're getting a lot of calls from across the area. People say this is the strongest one they've felt in years."
Tony Wann, 37, a bartender at Carlee's Place in downtown Borrego Springs, said the quake knocked a few glasses off shelves but none shattered and there was no apparent damage -- other than rattled nerves.
"You heard it before you felt it. It was a big rumbling, then a few seconds of violent shaking," he said.
"Everybody came out of their shops, then everybody went right about their normal business," Wann added. "It's part of living in California."
Kim Daniel, director of sales and marketing at the Borrego Springs Resort and Spa just 13 miles from the epicenter, said the earthquake was the strongest that she's felt in her 13 years in Southern California.
The temblor began with a strong shaking that lasted about 10 seconds, she said.
She said the resort appears to have suffered no structural damage. There were few guests because summer is the low tourist season in the desert.
At least a dozen aftershocks have been recorded, with the largest measuring magnitude-3.6. Guarino said such seismic activity is not completely surprising given the quake on Easter.
"We knew that the stress increased on both of those faults. You can't predict earthquakes, but the statistics said there would be an increased chance of this happening," he said.