4 teens charged with hate crimes after racist graffiti, swastikas found at high school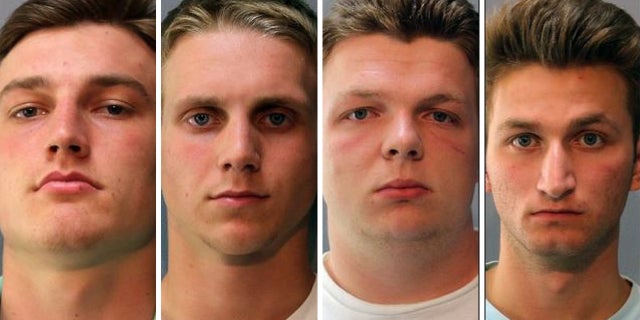 Four Maryland teenagers were charged with hate crimes after racist graffiti, homophobic slurs and swastikas were discovered spray-painted on a high school campus.
The graffiti was found at Glenelg High School on Thursday morning just before an awards ceremony for seniors, the Baltimore Sun reported.
Following an investigation, which included reviewing surveillance video, police arrested four senior students: Seth Taylor, 18, of Ellicott City; Tyler Curtiss, 18, of Brookeville; Joshua Shaffer, 18, of Mt. Airy; and Matthew Lipp, 18, of Woodbine, FOX 5 DC reported.
SLAIN MARYLAND POLICE OFFICER LAID TO REST
The four students face "multiple counts of destruction of property based on race, color, religious belief, sexual orientation, or national origin," officials told FOX 5 DC. Three of the students were taken into custody from school and the other was picked up by officials from his home.
"We will not tolerate this in Howard County," Superintendent Michael J. Martirano told reporters at a news conference.
"We work hard every day to make sure our children are safe and protected. No child, no staff member, within our inclusive community should ever feel any form of threat or harassment or any form of hate," he continued.
The incident was the first hate crime reported at a Howard County school this year.
After the graffiti was found, the school's principal David Burton spoke to students regarding the incident. Officials said some of the graffiti was directed toward Burton.
OFFICIALS TRADE BLAME AFTER TEEN ARRESTED IN OFFICER'S DEATH
"On what should be a joyous day, when parents and students assemble to celebrate the senior class for its many accomplishments, they were instead confronted with an appalling display of bigotry defacing their school," Howard County Executive Allan H. Kittleman said at the news conference.
He said he had four children who attended the high school and his daughter was currently employed as a teacher at the institution.
"I know the sentiments expressed in this terrible graffiti are extremely unsettling to our residents. But we cannot let those who promote hate destroy our important year-end traditions and must remind ourselves that this type of intolerant behavior is the work of a small number of hateful individuals," Kittleman said in a statement. "They do not represent our shared beliefs as a community. They do not represent our shared values in Howard County. We will not tolerate it and will stand together in condemning this behavior."