3 die in shooting at Alaska precious metals shop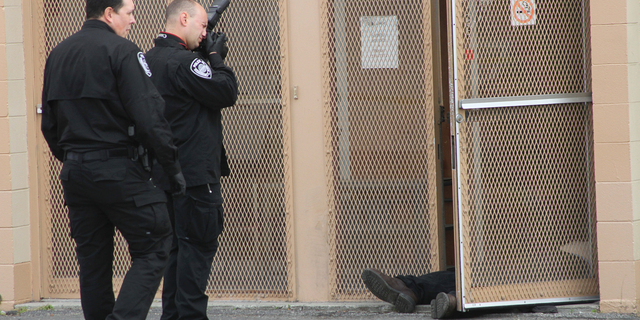 ANCHORAGE, Alaska – Three men were shot and killed Tuesday at an Alaska shop that buys and sells coins and precious metals and police acting on a tip took a suspect into custody.
Police could not immediately determine the motive for the shootings, said spokesman MJ Thim but were confident there was no further threat to public safety.
"Detectives are confident that this situation is contained," Thim said. "Now they're trying to figure out who is responsible for what."
Police received reports of shots fired at The Bullion Brothers, a shop on the ground floor of a two-story building. The building is in a busy area across the street from a print shop and pizza restaurant and next to a closed pawn shop.
Police found a man dead in the entryway, his legs outside the door. They found a second man dead inside an office.
Another man inside the shop was critically wounded. He was taken to a hospital, where he died, Thim said.
Police received a tip that a man who had been at the shop was headed toward south Anchorage. Patrol officers pulled over the man's car and took the driver into custody.
Detectives had not immediately determined the relationship between the suspect and the dead men.
James Jones has a custom jewelry business in the back of the precious metals store and went there after his daughter alerted him about the shooting.
Police told him "it's going to be many, many, many hours before I can get back to my shop to see if everything's there," he said.
"It's just stuff," he said.
He was recovering from neck surgery and said he hasn't been to his jewelry business in four months.
The deaths brought the Anchorage homicide total for 2017 to 28. The city had 27 homicide deaths as of Aug. 12 last year, Thim said.
___
Associated Press writer Mark Thiessen contributed to this report.