3 Detroit police officers shot, 3 women killed after barricaded gunman opens fire, cops say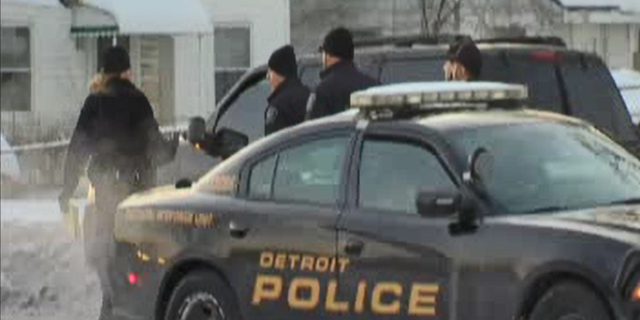 NEWYou can now listen to Fox News articles!
Three Detroit police officers were shot and three women were killed Sunday when a gunman opened fire, and reportedly barricaded himself in a home during the "melee" in an hourslong standoff.
The standoff ended Monday afternoon after the suspected gunman was found dead inside the home in east Detroit. A third woman, believed to be the suspect's girlfriend, was found dead when police entered the residence more than 14 hours after the incident began, WXYZ reported.
The standoff began around 10 p.m. when police received a call about shots fired at a home. Police arrived and found two women and an off-duty Detroit Public Schools Community District police officer shot, Detroit Police Chief James Craig said during a Monday news conference.
"The suspect was heard saying prior to the instances, 'I will not be taken without a fight,'" Craig said. "So he clearly expressed an intention to do harm and he clearly expressed intentions to hurt police officers."
Craig added the gunman "fired an unknown number of rounds" before the DPSCD officer called 911. The shooter then began firing at responding officers for at least an hour, striking a Detroit police officer. A second attack on officers occurred early Monday morning when another Detroit police officer was wounded.
Responding police officers did not return fire during the standoff because it was unclear where the gunfire was coming from, according to Craig. He added that police initially believed another person was firing from a neighboring house, but ultimately determined there was only one barricaded shooter situation.
The women, in their 50s or 60s, were taken to the hospital and pronounced dead. The off-duty DPSCD officer suffered a gunshot wound to the knee and is expected to survive. The two other police officers also suffered non-life threatening injuries.
Despite earlier reports that the suspect was contained, Craig said police took a neighbor into custody and determined the individual did not fire any shots. Craig added the neighbor will be released later today.
Police said an argument may have sparked the incident. The suspect also reportedly suffers from mental illness and has no criminal history. He has seven guns registered under his name.
"It's not just dangerous for police officers — we are in a dangerous line of work — but it is dangerous for our community," Detroit Police Asst. Chief Arnold Williams said, according to WWJ.