2 Dead, Several Injured in Wash. State Bus Crash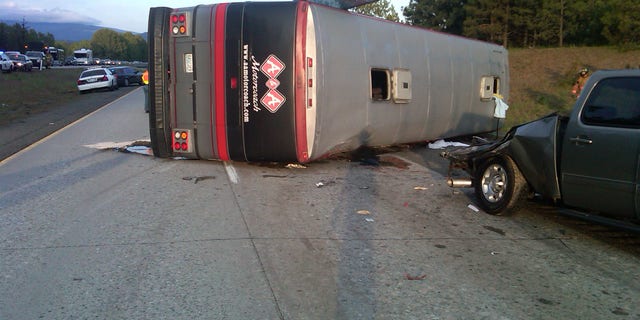 CLE ELUM, Wash. – A bus carrying soccer fans slammed into a pickup truck on the shoulder of Interstate 90 in central Washington, setting off a three-vehicle crash that killed two people and injured up to 15 others, authorities said.
The bus careened onto its side after hitting the truck, which was disabled and parked on the shoulder, Lt. Scott Martin of the Washington State Patrol said. A passenger vehicle veered to avoid the accident and rolled over, winding up in the center median,
"The bus lost control and struck the pickup on the shoulder," Martin told the Associated Press. "It hit the truck and spun around," landing on top of the truck's rear end.
The crash occurred shortly after 6 p.m. Saturday near the town of Cle Elum, about 80 miles east of Seattle.
A man and a woman on the bus were killed, and a man who was standing by the disabled truck was seriously injured. Martin said he was rushed by helicopter to a Seattle hospital.
As many as 14 others in the three vehicles were believed to have minor injuries but Martin said he didn't have an exact count because many were taken to hospitals in private vehicles.
Paul Jimenez told Seattle's King TV that he drove up to the scene just moments after the crash.
"I saw people crawling out from underneath the bus, or being dragged out, I saw people coming out from the top," he said.
"People were hugging and crying," Jimenez said. "It's kind of shocking, I'm still a little bit in shock right now."
Two of those injured were also in the pickup, two were in the passenger vehicle and the others were aboard the bus, Martin said.
Kittitas Valley Community Hospital in Ellensburg said nine of the injured were treated at its facilities and all were in satisfactory condition.
The bus carrying about 15 passengers was en route from Seattle, where the soccer game was held, to Moses Lake in Grant County.
Martin said he didn't have any other details on the crash, including how fast the bus was traveling.
The eastbound lanes of the interstate were closed for a police investigation and it wasn't immediately clear when they would reopen.