15 people hurt as storms tear through Miss., La.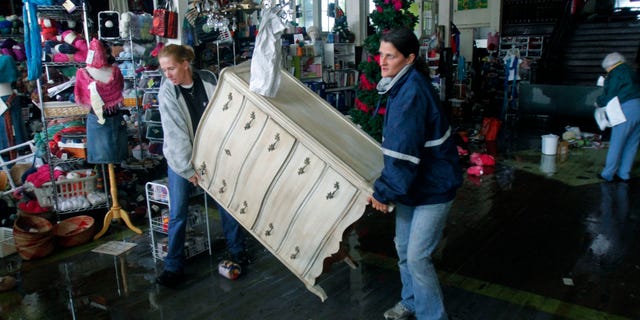 YAZOO CITY, Miss. – Clarence Taylor slipped on a pair of gloves Tuesday and went to work cleaning up damage from the possible tornado that tore through his hometown. He knows the drill — another twister devastated the area in April, leaving a path of destruction nearly a mile wide and killing a dozen people.
No one died in the latest storms, though 15 people were hurt in Mississippi and buildings were badly damaged there and in Louisiana late Monday. Schools were closed in Alabama and tornado watches were posted in Tennessee and parts of North and South Carolina on Tuesday as the storms moved east.
In Yazoo City, the 63-year-old Taylor said Battle Street, where he has lived most of his life, looked like a war zone.
He paused to take a slow drag off a cigarette and pointed to power lines hanging from broken poles and twisted pieces of tin scattered about from a nearby business. The winds blew off a tarp he had put on his roof to cover damage from the April storm.
"This is the second time it dropped down on this street in just six months," Taylor said. "I've been through it, man."
Taylor said the tornado sounded like a bomb and he bolted down the street to check on his 93-year-old mother a few doors away. The wind blew him down, but he made it to her house and found her unhurt.
"I'm blessed, man. I'm blessed," Taylor said.
Yazoo City, an hour drive north of Jackson, has seen its share of disasters. Much of the town burned in 1904. Main Street was rebuilt with two- and three-story brick buildings and got a facelift during the filming of the 2000 movie "Oh Brother, Where Art Thou?"
One of the buildings featured in the movie, Grace Hardware, was heavily damaged by the storms and thick sheet metal that tore from its facade battered nearby businesses.
Water was still dripping from the ceiling Tuesday as friends of owner Susan Cartwright Guion helped load merchandise onto a truck. Though it's called a hardware store, the owners make custom furniture and sell antiques and art.
"It's been here a long, long time, but now it has no roof and we have no insurance," Guion said.
A few blocks away, a large tree on the courthouse lawn was uprooted, falling between the two story white building and a war memorial for local veterans. An American flag and the pole from which it hung were twisted among the broken branches.
A few shingles blew off the courthouse and some windows were blown out, but the building was otherwise unscathed.
Gov. Haley Barbour, who is from Yazoo City, and Lt. Gov. Phil Bryant both assessed damage in the town, which sits where the foothills of Mississippi meet the vast, flat farmlands of the Mississippi Delta.
"I think what you've got here is storm fatigue," Bryant said. "It's very frightening to people."
Barbour declared a state of emergency for Attala, Leake, Monroe, Oktibbeha, Smith, Warren and Yazoo counties and other parts of the state damaged in the storms. The declaration frees up state resources to help in the recovery.
At least 24 businesses were damaged in Yazoo City, Bryant said, though authorities were still working to quantify the damage.
"Lord, we can't get over one tornado before we have another one," said John Anderson, who sat at the counter of his jewelry store as neighboring business owners picked up debris and tried to salvage merchandise. Anderson said he's been lucky — his business escaped major damage in both storms — but the twisters still take an emotional toll.
"It makes it kind of scary," Anderson said. "It makes you wonder if you should move from here and start over somewhere else."
In central Louisiana, a tornado destroyed a brick house and damaged three other homes near the town of Atlanta as a front with thunderstorms moved across the region from Monday into Tuesday. No one was hurt, the Winn Parish sheriff's office said.
___
Associated Press Writer Jack Elliott in Jackson contributed to this report.