Take the Plunge: 4 Incredible Shipwreck Dive Sites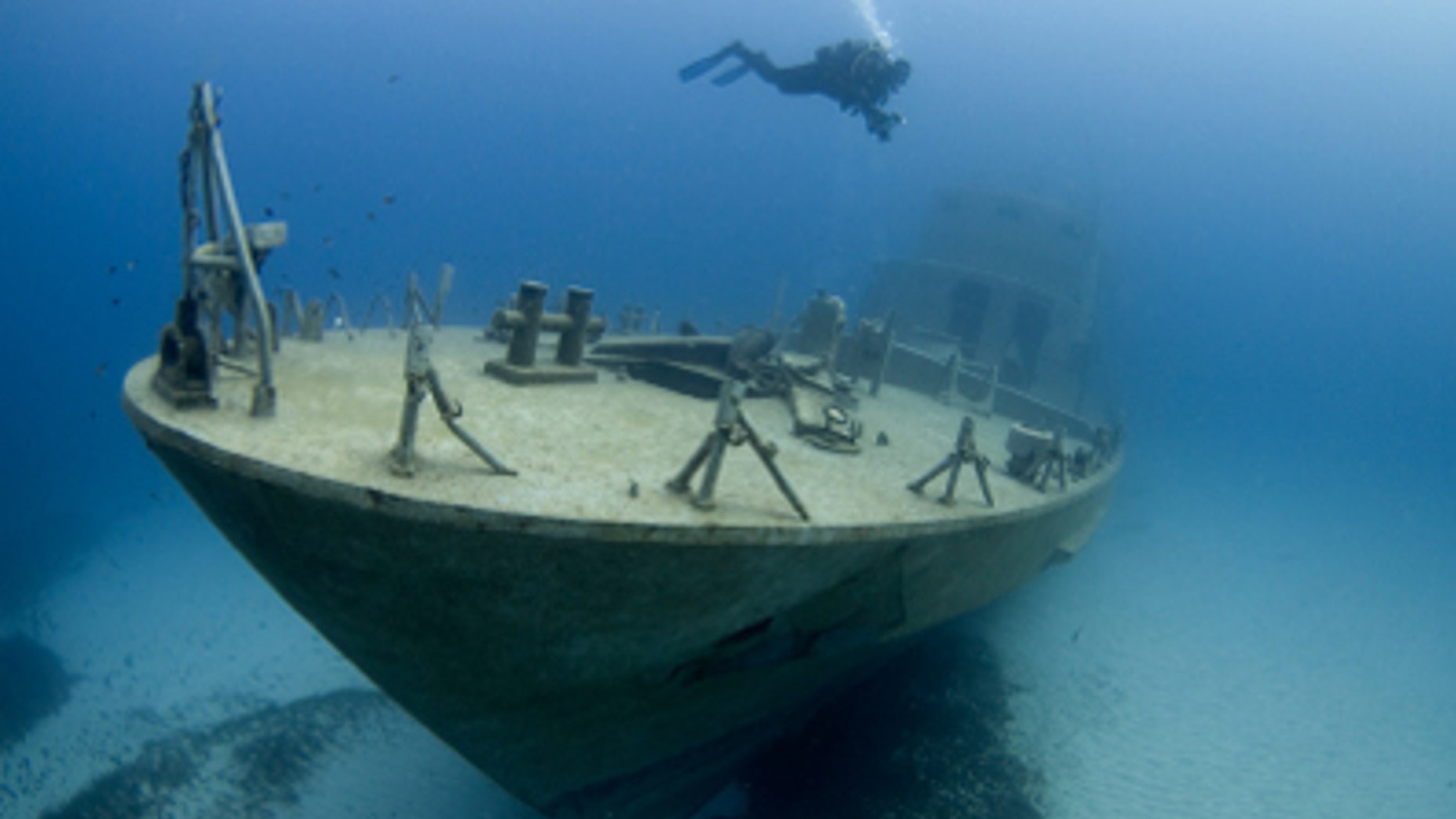 Those who've sported SCUBA or snorkel gear and submerged beneath the surface of the sea have witnessed the fantastical underworld that lies below. Through the lens of a diving mask is a flooded universe where a symphony of plant life sways back and forth to the sub aqua beat, and gangs of fish nose around for something to eat. To look out across a seascape is to delve into the dynamic and awe-inspiring; while at the same time observe something dark, scary and lonely.
While it's not eco-PC to dig man's underwater destruction, it is an otherworldly journey for the imagination to explore a ship or plane wreck via dive or snorkel. Marine life and their eco systems are surprisingly resilient. Submerged flora and fauna have no problem hopping onboard and moving into sunken ships once the waters have calmed.
UNESCO estimates that there are roughly three million shipwrecks worldwide and billions of dollars strewn across the ocean floor. Don't get too excited. It costs about $4 million to send an underwater robot to hunt those treasures. Nevertheless, here are five wrecks to wreak exploratory havoc on in bodies of water all around the world.
MS Antilla
My first foray with sea wreckage was a close examination of the 400-foot long Antilla -- one of the largest wrecks in the Caribbean. Just off Aruba's Arashi reef, the German freighter was initially used during World War II to provide provisions to submarines patrolling the Dutch Antilles. When Germany invaded Holland, Aruba joined forces with the Allies. Anchored in shallow waters, after being ordered to surrender in 24 hours, the German crew obliged, but the captain opted to scuttle the ship rather than let it fall under Allied control. The Antilla sits at a shallow depth – peeking out of the surface and maxing out at a mere 60 feet. As a snorkeler, I was both dazzled and terrified by the ghostly presence of a ship that once was and now today is festooned with cheerful sponges, corals and a plethora of marine life that made the ship home.
Dive with: Mi Dushi (www.midushi.com)
SS Yongala
March marked the 100th anniversary of wreck located in the Great Barrier Reef Marine Park in Queensland, Australia. The Yongala hit the ocean floor in 1911 but was mysteriously undiscovered for more than 50 years despite all on board perishing. Considered one of the top wrecks in the world, the coral-encrusted ship attracts massive blue gropers and staggering schools of huge trevally, cobia, pinnate batfish and fingermark. Not to mention bull sharks, marble rays and juvenile Humpback whales along with thousands of other sea creatures. The sea voyeurism continues when floating up closer to the surface where harmless sea snakes and turtles go about their business.
Dive with: Yongala Dive (www.yongaladive.com.au)
HMS Thistlegorm
Most Americans don't think of Sharm el-Sheikh, Egypt as a dive destination, but thanks to the 1941 bombing of the HMS Thistlegorm, the 400ft long WWII British container ship replete with motorbikes, tanks, aircraft, armored trucks and rifles is the busiest dive wreck in the world. Today the superstructure is broken in two, but still largely intact as one bomb split the hull to reveal all that fancy cargo. The Thistlegorm, lying within the Red Sea's Straits of Gubal is still armed with well-preserved antiaircraft and machine guns, but the only armies and squadrons' onboard are soldierfish, barracuda, lionfish, crocodilefish, blackspotted sweetlips, jackfish, and grouper. Nevertheless, the Jolanda, a Cypriot Merchant ship in Ras Mohammed and 20km south of Sharm, is said by those in-the-know to be an even better wreck dive spot.
Dive with: Aquarius Diving Club (www.aquariusredsea.com)
Superior Producer
The final voyage of the 200-foot Superior Producer, now anchored on the ocean floor off Curacao, was in September 1977. It sank on it's way to Colombia, barely making it beyond the Willemstad Harbor because it was packing some serious weight in Christmas and household goodies. Because it barely left the shore before hitting rock bottom, it's close enough for excellent swimmers to shore dive the wreck if the oft-strong currents are down. Unfortunately, there aren't any leftover holiday treasures as the ship was pillaged of its purchases right after taking the plunge. Today it's covered in black coral, sponges and sea anemones, and frequented by grouper, snapper, mackerel, barracuda and large lobsters. Bring a flashlight not just on night dives (when the coral blooms), but daytime ones too: there are a lot of cool entries to navigate once through the ship's manhole. First time wreck divers prefer the Superior Producer; the pros prefer nearby Tugboat and Car Pile.
Dive with: Ocean Encounters Curacao (www.oceanencounters.com)
Black Jack B17
It's not every day anyone, much less a wreck diver, gets to explore a B17 military bomber. The Blackjack, also known as the "Flying Fortress" fell into the sea following a bombing raid on a Japanese base in 1943. Almost 70 years later and it is still remarkably intact. Neatly submerged in roughly 148 feet of water and atop an immaculate white sandy sea floor, the plane's cockpit and turret guns are open for inspection. Ammunition belts are still loaded into 50 caliber machine guns whose barrels still rotate and are now adorned with feathered stars, bright, soft corals and littered with crinoids. Swimming or guarding the site is schools of barracuda, hammerhead and reef sharks, manta and eagle rays, grouper and other nomadic fish. Those who make the trek to Milne Bay in Papua New Guinea are frequently dazzled if not overwhelmed by how many ocean and aircrafts have plummeted here as tour operators call it a wreck diving Mecca.
Dive with: Black Tomato's offers a cool adventure package with dive (www.blacktomato.co.uk/44604/the-ultimate-tropical-adventure-in-png)
Click here for more from FoxNews.com Travel